There are many reasons to consider using an external video recorder for film and television. In some cases, external HDMI or SDI video recorders can serve as better quality recorders than the camera they are shooting on, in other cases they may be a backup dual system recording method, and in just about all cases they speed up and simplify your post production workflows by providing high quality edit-ready ProRes or DNxHD files. There are several professional external video solid state recorders on the market today, and choosing between Atomos Ninja Blade/Flame vs Blackmagic Hyperdeck recorders is tough so so we're going to compare the best options. For this article, we'll be splitting them into two categories: high end SSD recorders and budget friendly SSD recorders.
Best HDMI & HD-SDI External Video Recorders for Pro Cameras – High End
Atomos Shogun Flame 4K HDMI/SDI Recording Monitor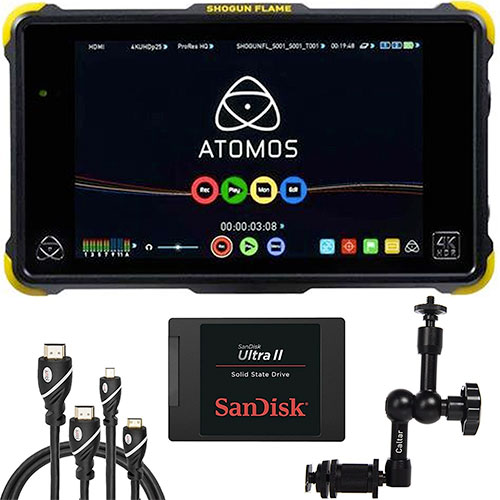 The Atomos Shogun Flame is an extremely high end two in one product. It both provides a 7 inch external display monitor that is so bright it doesn't need a sun hood, as well as high quality SSD recording capabilities from either HDMI or HD-SDI inputs directly from your professional video camera or even DSLR. It can write to disk 4K/HD 10-bit Apple ProRes/Avid DNxHR, Sony & Canon Raw to ProRes/DNxHR as serve as a pass through conversion device, translating one format to another on the fly like pulldown removal, etc. The Atomos Shogun Flame is capable of recording 4K and 2K at up to 30 frames per second and 1080P at up to 120 frames per second. Can record on 2.5″ SSDs at up to uncompressed true 10-bit or 8-bit 422 as well as various Sony SLOG, Canon CLog Arri Log C Panasonic Vlog JVC JLog and Red LogFilm.
Ports: HDMI in & out, HD-SDI in & out, includes two XLR audio inputs as well. Runs off of Sony NP batteries or DC power. Additional specsheet here. Also available in kit format with mounting accessories, HDMI cables and more. Note: If you'll be connecting to your camera via HDMI only and you don't need additional SDI in and outputs, consider the lower priced Ninja Flame.
Atomos Shogun Flame 4K HDMI/SDI Recording Monitor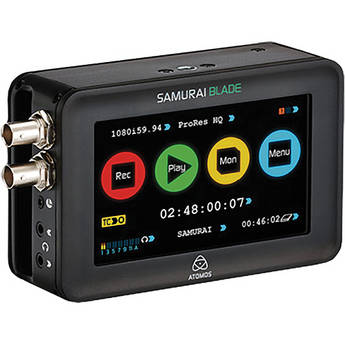 In a nutshell, the Atomos Ninja Blade and Samurai Blade SSD field recorders are a lower-end version of the Shogun Flame and Ninja Flame products. The difference is that they don't support 4K recording as the other higher-end models do. The Ninja Blade supports HDMI recording while the Samurai Blade supports HD-SDI input recording so what type of outputs your camera has will determine which model is more appropriate for your use. If you don't need 4K recording, these are solid choice recorders with many of the same features as the higher-end 4K models at a fraction of the price. Key differences besides the lack of 4K: the touchscreen is two inches smaller (only 5″ instead of 7″), and it doesn't support the various Log formats that the Flame SSD recorders do. (Related: Best 2.5″ Solid State Drives (SSDs) for Atomos Ninja & Blackmagic Hyperdeck Video Recorders)
Blackmagic Design Video Assist 4K, 7″ High Resolution Monitor with Ultra HD Recorder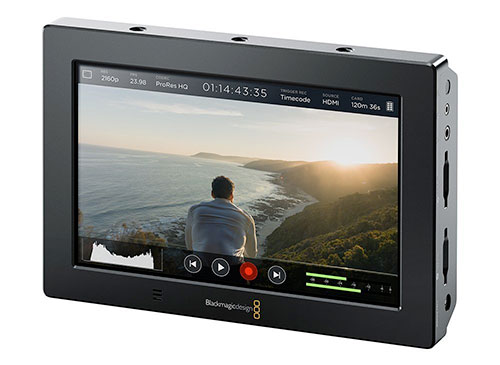 Blackmagic Design's entrant into the high-resolution external video recorder market is the Video Assist 4K which features a high quality 7 inch touch screen and records 10-Bit ProRes and DNxHD or DNxHR footage at 4:2:2. Unlike the Atomos models, the Blackmagic version records on SDHC memory cards, and receives signals from either HD-SDI input or HDMI (it also features an "out" port for each of these, making four video ports in total). Also includes two XLR audio inputs as well as a headphone port for confidence monitoring. Runs off of two Canon DSLR batteries. If you don't need 4K video recording, also consider the little brother model: the Blackmagic Design Video Assist at about half the price.
Best HDMI & HD-SDI External Video Recorders for Pro Cameras – Budget Friendly
Blackmagic Design HyperDeck Shuttle 2 SSD Video Recorder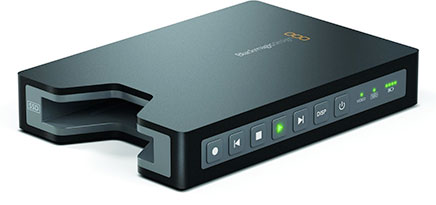 The Blackmagic Design HyperDeck Shuttle 2 is a great cheap external video recorder that writes high bitrate ProRes and DNxHD to 2.5″ hard drives. Unlike most of the Atomos products, the Blackmagic HyperDeck doesn't include a monitor which might be a benefit to you since it is able to be lighter and smaller as a result.
The Blackmagic Design HyperDeck Shuttle 2 also records with either HDMI or SDI input and provides HDMI and SDI out so it can be used as a passthrough recorder to feed into an external monitor; it's not just a dead end. Like other HDMI external video recorders, the HyperDeck Shuttle 2 allows you to bypass your camera's low bitrate compression (i.e. AVCHD or MPEG compression) at around, say, 30mb/S and record barely-compressed 220mb/s edit-ready ProRes or DNxHD. Comes with an internal battery.
Atomos Ninja Star Pocket-Size ProRes Recorder & Deck with Atomos 64GB C-Fast Card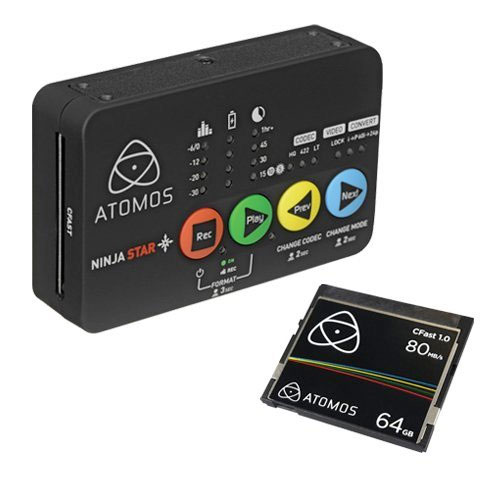 The Ninja Star is the Atomos answer to Blackmagic's HyperDeck Shuttle 2, which lacks a screen. Despite being around the same price (only a $40 price difference at the time of this writing) are some key differences between the two models, however. For one, the Blackmagic external video recorder accepts HDMI and SDI input, while the cheaper Ninja Star only accepts HDMI. Second, the Ninja Star only records ProRes, not Avid formats like DNxHD. And thirdly, the Atomos Ninja Star DSLR video recorder is quite a bit smaller than the HyperDeck Shuttle 2, owing to the fact that it records on CFast cards (you might know them as high capacity, high-speed Compact Flash cards) instead of 2.5″ hard drives which the Shuttle 2 uses. Runs off an internal battery.
Factors to consider when choosing an external Video Recorder
Which video codecs does this professional video solid-state recorder offer? You may be using a ProRes workflow or you might be using an AVID codec workflow, but making sure your video recorder is compatible with your intended Post-production workflow is an obvious first step. And of course, you'll also want to check the frames per second and resolution options like 4K and high-speed recording too.
What kind of batteries does this recorder use? Most of the Atomos external video recorders use Sony NP batteries which are cheap and easy to use, while the cheap external video recorders in this article have internal batteries.
How much do size and weight matter to me? Will you be running and gunning with this system or will you mostly be shooting on a tripod with plenty of space for an expansive rig?
Do I need an additional external video monitor? Some external SSD video recorders like the Atomos Flame models provide larger LCD screens that your camera will, can you kill two birds with one stone by combining your video monitor with your recorder?
How will I connect and mount the field video recorder on my camera? Browse for mounts, HDMI cables and BNC video cables.
Which SSD (solid state drive) should I use with this video recorder? Check our article: Best 2.5″ Solid State Drives (SSDs) for Atomos Ninja & Blackmagic Hyperdeck Video Recorders