Documentary filmmakers, especially documentary filmmakers at the beginning of their careers, are no stranger to low budgets. With more documentary films than ever before being produced each year, there's less funding to go around. With so much new competition for funding, money can be hard to come by. Luckily, the price of high-quality professional video camera equipment is dropping each year which means that there are more and more cheap documentary film cameras on the market than ever before.
Here are some of our top picks for the best low budget documentary camera:
Canon Rebel T6i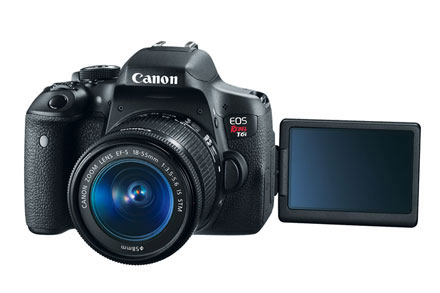 Canon has produced professional video cameras for years, and the Ti lineup is their entry-level DSLR camera that shoots video. (Related article: Why are DLSRs popular for documentary filmmaking?) Starting with the T4i a few years ago, the Canon Ti range has included autofocus for video, something that had been missing on its earlier consumer-level DSLR cameras. While the Ti's autofocus isn't quite as good as a dedicated non-DSLR video camera for documentary filmmaking, DSLRs like the T6i and T6i let you produce interview shots with an out of focus background behind your subject, giving you a cinematic look on a budget. Here's a sample video still shot from the Canon T6i (see below). You'll notice that the background is blurry while the subject is in crisp focus– you can imagine how your interviewees could be shot like this nice too: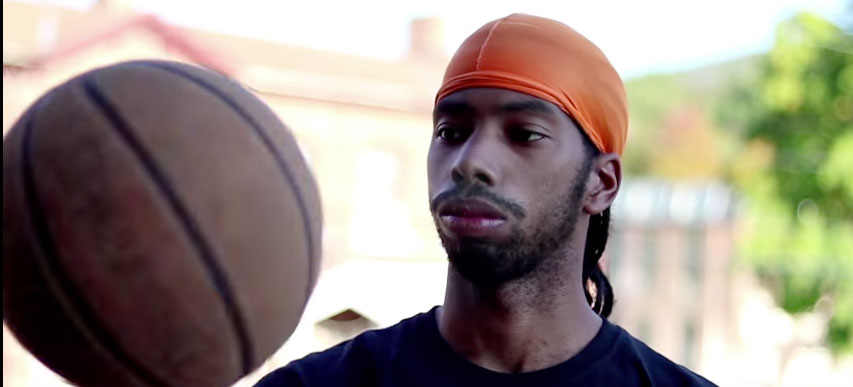 Why the Canon T5i/T6i are good low-budget documentary film cameras: These Canon Rebel DSLRs give you high-quality DSLR looks on a budget. And choosing slightly older models of this year's latest and greatest camera (like the T5i instead of the T6i) can net you substantial cost savings. Plus, since you're buying a Canon interchangeable lens camera, that means you also get access to the excellent pro-level EF & EF-S lens ecosystem and accessory ecosystem. Some filmmakers choose to "invest in glass"– in other words spend most of their money on nice lenses, and treat the actual camera as a more temporary piece of gear. Great lenses that work on many different cameras can be used over and over again for years while the camera behind them changes many times and gets upgraded.
Sony HXRNX100 Full HD NXCAM Camcorder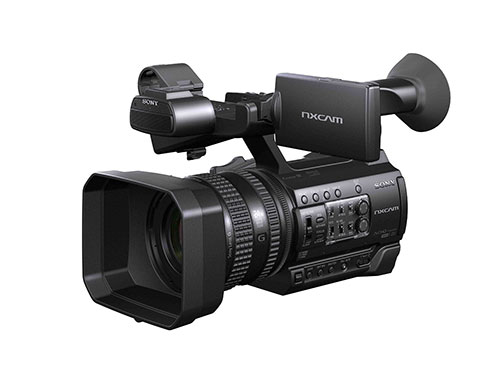 The Sony HXR NX100 is a great entry-level traditional video camera for low budget documentary filmmakers. It may not have a large sensor like a DSLR but it does offer many of the pro features of video cameras costing ten times its price-tag. For example, the Sony NX100 has 2 pro audio XLR inputs that allow you to connect professional shotgun mics on boom poles. It also has both a zoom ring and a zoom rocker which means you can easily zoom in quickly with the ring when you need to magnify your subject in a hurry (as doc makers often do in run and gun style shooting), but also zoom in slowly and consistently with the zoom rocker. Like other pro video cameras, this one also features a manual focus ring, physical audio controls (as opposed to a digital menu system which can be more time consuming to use), manual exposure controls, and an HDMI out to connect to a television, HDMI monitor, or external video recorder.
Why the Sony HXR NX100 good low budget documentary camera: It offers great ergonomics with a side handgrip for extended use and a top handle for low angle shots and carrying purposes. And because it's based on Sony's higher-end pro video cameras, the NX100 has rock-solid autofocus (better than any DSLR) and great image stabilization so your shots will be nice and steady. Both of these are key features for documentary filmmakers making run and gun style documentaries. Pro video cameras like this one are excellent for documentary filmmakers looking to capture a lot of fast action too. Documentaries about sports and other subjects with fast action will be particularly well-served by this low-budget documentary camera.
JVC 4KCAM Compact Professional Camcorder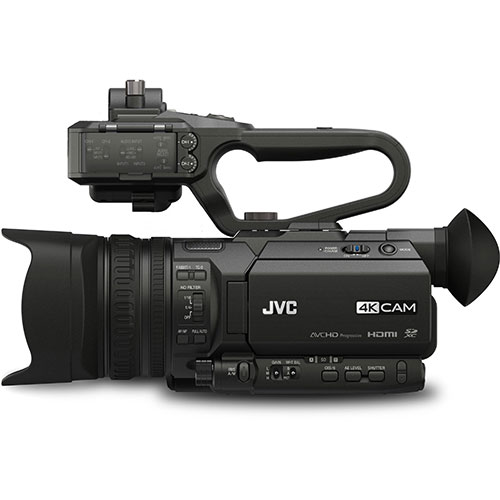 It may be surprising that we're putting a brand new video camera that shoots 4K video on a list of low-budget video cameras for documentary filmmakers. But the new JVC 4KCam is an excellent cheap documentary film camera that shoots in 1080p as well as 4K and offers a lot of features that doc filmmakers will be interested in. Among them: manual focus and zoom rings, a top handle, compact handheld ergonomics with hand grip and strap, dual XLR inputs and plenty of manual controls.
Why it's a good low budget documentary film camera: This is a small camera so it won't quite have 100% of the same manual controls you'll find on its bigger brothers that cost multiple times what this one costs. But if you're looking for a cheap documentary film camera, you could do a heck of a lot worse than the JVC 4KCAM. It offers several manual functions like audio controls, exposure controls, and more. It's also light: it weighs less than 6 pounds. And it features high bitrate recording (up to 50mbps in normal HD mode and 150mbps in 4K mode), an HDMI output port for external monitors or recorders, an excellent zoom lens, and dual SDHC/SDXC memory card slots so you can fill one up and automatically transfer to the next card to keep seamlessly recording long events. Plus, it's got a small body and can be brought anywhere where size might be an issue.
Final thoughts to consider:
When you're picking out a low budget documentary camera, you'll want to consider factors like:
What type of memory cards does it shoot on?
If the camera you're shooting on only records on proprietary memory cards that a single manufacturer makes, they're probably going to be more expensive than memory cards based on an open standard that lots of cameras use. All the documentary cameras on this page shoot on SDHC/SDXC memory cards, which are made by a ton of manufacturers and are super cheap these days even for cards with high storage capacities and fast write speeds.
Does this camera support interchangeable lenses?
A camera with an interchangeable lens, like a DSLR, has the added benefit that you're able to swap out the lens and get a different focal length, or better low light capabilities. But the interchangeable lenses often don't have quite as good zoom ranges or image stabilization as fixed lens cameras like traditional video cameras have (because they can only be used with a single lens, camera manufacturers often bundle them with a versatile long zoom). More lenses to buy can mean more expensive accessories to buy, or it can mean greater versatility in the long run. Keep in mind too that if you're buying a DSLR it won't be as ergonomic as a traditional video camera so you may need to purchase additional accessories like a DSLR stabilizer rig to keep it steady. And the more accessories you buy, the more expensive the total package turns out to be. In some cases it may be worth pricing out how expensive the traditional video camera might be versus the DSLR plus all its accessories might be.
Related:
Best Documentary Filmmaking Cameras in 2016
Best Tripod Carrying Cases (Hard & Soft Tripod Cases)
How to Make a Low Budget Documentary Film
Complete documentary filmmaking equipment list