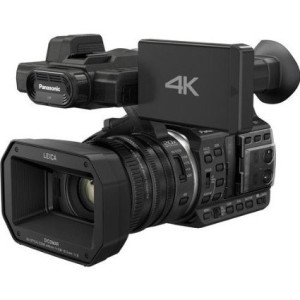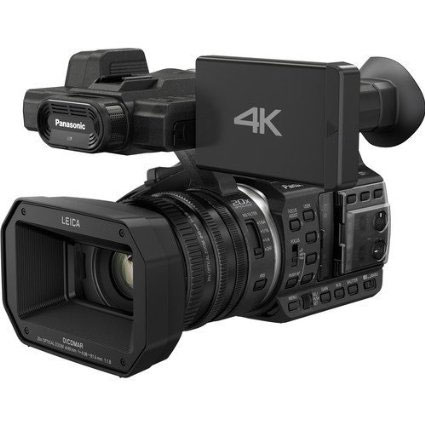 Up until recently the words "4K video camera" and "cheap" weren't likely to be found in the same sentence, much less the same article. Unless of course, that article contained the phrase "Now, 4K video doesn't exactly come cheap…" Or to crack a joke about 4K cameras not being anywhere close to $4K.
But today we're seeing more and more low-budget 4K video cameras that documentary filmmakers and others are picking up to shoot their next project. 4K video has a number of benefits for documentary filmmakers, even if you're only delivering your final film in 1080p. For instance, shooting in 4K but delivering in normal 1080p means you can "punch into" shots when you're editing. This means you expand the video or digitally zoom in during post-production to achieve a close-up you wished you'd gotten when you were shooting, perhaps to reveal a crucial detail to the audience. Shooting in 4K but delivering in 1080 can also mean you can more easily use a steady or stabilization effect when you're editing to make handheld footage less shaky. These steady filters in editing programs zoom in slightly, so having that extra resolution to work with can result in a much steadier shot in post-production.
Here are some of the cheapest 4K video cameras available today:
JVC 4KCAM Compact Professional Camcorder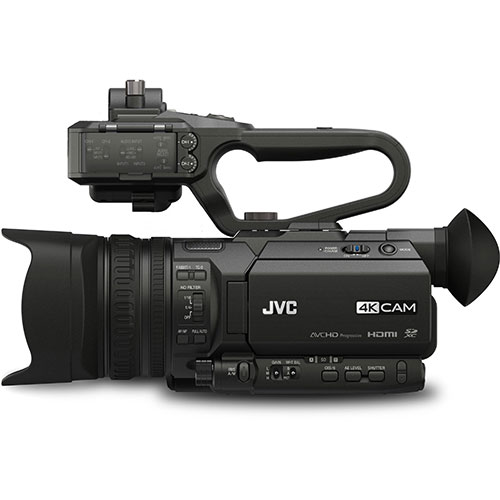 The JVC 4KCam is a new compact video camera that shoots in 4K, as you might guess from the name. The 4K Cam offers several professional video camera features for a bargain of a price. Often one of the major differences between pro-level and consumer level video cameras is how many manual controls they offer. Consumer video cameras mostly offer auto shooting modes, or if they do offer manual controls of any kind, they're likely to be buried deep in a touch screen menu system that's difficult to adjust settings and takes a long time to pull up. Pro video cameras offer tons of physical switches, toggles, and buttons in thoughtfully chosen positions on the camera body. And the JVC 4KCam offers plenty of these bells and whistles, like: exposure controls, built-in ND filters, manual audio controls, manual gain, a manual focus ring, and both a zoom ring and zoom rocker. It also features solid handheld ergonomics that you won't need a DSLR rig for, a detachable top handle and a handle strap, plus of course great autofocus (which again, you don't find with DSLRs usually). The JVC 4KCam records at a very respectable 150mbps in 4K video mode and 50mbps in normal 1080p video mode and offers two SDXC memory card slots for card spanning when continuously shooting long events. The detachable handle gives you two professional XLR inputs to connect shotgun microphones mounted on boom poles, wireless lavalier microphones and more. To be honest, we're quite impressed that JVC has come out with a professional 4K video camera at such an aggressively cheap price.
Panasonic GH4K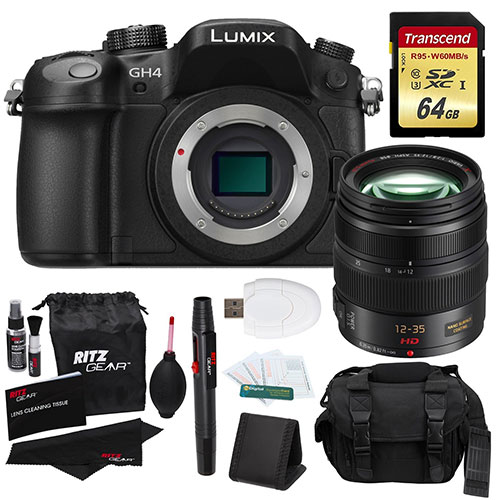 Panasonic started making really solid and respected DSLRs for video a few years ago when it released its GH2. The successor, GH3 was also a great camera for documentary filmmakers. And with the highly anticipated GH4, Panasonic has brought 4K video recording at an affordable price range to those seeking DSLR video cameras. The GH4, which shoots 4K in a variety of modes at up to 200mbps bitrate, is a substantial upgrade over its successors offering 4K video, better quality image processing, and an optional but pricey XLR interface
that plugs into the bottom of the camera, allowing you to connect professional microphones without using an external DSLR audio adapter. The GH4 records on cheap SDHC or SDXC cards and you can also buy additional batteries for the GH4 quite cheaply because multiple manufacturers make them.
Note that unlike many other DSLRs, the Panasonic GH4 is a Micro Four Thirds camera, meaning it uses M4/3 lenses
made by a variety of different manufacturers. One key advantage of the Panasonic GH series has over some of Canon's cameras is it has a headphone jack and adjustable audio input instead of auto-only audio levels. It's not surprising that this small and light camera is turning a lot of heads in the documentary filmmaking community.
Check out our recent article about using Panasonic GH4/GH3 cameras for documentary filmmaking for more information.
Panasonic HC-X1000 4K-60p/50p Camcorder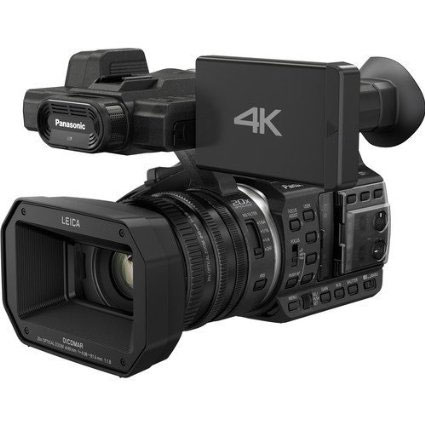 While the Panasonic X1000 video camera kit might not at first seem to meet the criteria of budget 4K video camera, we'd argue that the accessories it comes with in this bundled kit more than make it a great deal.
First off, the X1000 itself is a solid professional level 4K documentary filmmaking camera. It offers dual XLR audio inputs to connect professional microphones, a sturdy top handle, great ergonomics with a side grip and strap and a zoom ring as well as a rocker to help you either zoom in quickly (with the zoom ring) or zoom in smoothly at a constant rate of speed (with the rocker). It also has manual focus and iris rings to help you adjust exposure and focus rapidly, as well as a bevy of manual controls in the form of physical buttons, wheels, and sliders (rather than menus which can be cumbersome). The X1000 records 4K at 150mbps bitrate and 2K video at an impressive 200mbps. Beyond that, this Panasonic 4K video camera kit includes two high capacity Class 10 SDXC memory cards, two batteries, an external battery charger, a backpack, tripod, wired lavalier microphone, shotgun mic, and even an battery operated camera mounted light and some other goodies. Other bundle configurations with and without kits are also available.
Things to consider when shopping for a cheap 4K video camera:
Is this camera going to need a bunch of accessories?
DSLRs tend to need stabilization rigs so that's a factor to consider if you're thinking about getting a 4K DSLR. It's something to consider if you're looking for 4K video on a budget. The most cost-effective video cameras for the money are probably traditional video cameras without interchangeable lenses. At the same time, most traditional video cameras can't quite achieve the cinematic "look" of DSLRs though. (One exception is the relatively new Panasonic DVX 200 hybrid camera which combines a large sensor with the ergonomics and image stabilization of a traditional video camera.)
What bitrate does this camera shoot at?
The bit rate a camera records at indicates how much data is captured and written to disk for every second of video. In other words, the higher the bitrate, the more information can be captured and the better the video quality generally is. Higher bitrate recordings also stand up to color correction in post-production better. It's especially important to pay attention to bitrate when you're looking for a 4K video camera because at a resolution that high, you'll want to make sure you won't end up with a bunch of jagged pixels. We would be skeptical of a camera that shoots 4K at 100mbps for example.
Related:
The Best Low Budget Documentary Film Cameras
Best Documentary Filmmaking Cameras in 2019
What is the Best Cheap Documentary Camera for Filmmaking?
How to Make a Low Budget Documentary Film
Complete documentary filmmaking equipment list