If you've got an excellent subject for a documentary film but a not so excellent budget, you're probably wondering: what is the best cheap documentary camera? Filmmakers make hundreds, perhaps thousands of documentary films each year, and their budgets range from virtually nothing on the low end (think: short films shot on iPhones and uploaded to YouTube) to hundreds of thousands of dollars (and even occasionally a million or more dollars) on the high end. And pro filmmaking cameras themselves can cost $10,000 and upwards, quite easily. So with that said, we've put together a list of the best documentary film cameras for the money this year:
Best Cheap Documentary Cameras
For our purposes, there are two basic types of low budget documentary filmmaking cameras. The first type is a regular handheld camcorder video camera. These tend to shoot in HD, have great autofocus, and comfortable hand grips. The second type is DSLR cameras for documentary filmmaking (think: cameras that look like pro-level still cameras). When you set these DSLR cameras in movie mode, they can also shoot in HD but because they have large lenses and sensors, they are able to capture images with what's called a shallow depth of field (or a blurry background), which can look pleasing and "cinematic." The downside to DSLRs for documentary filmmaking though is that their autofocus tends to be not as good as traditional video cameras, so you might end up manually focusing a lot.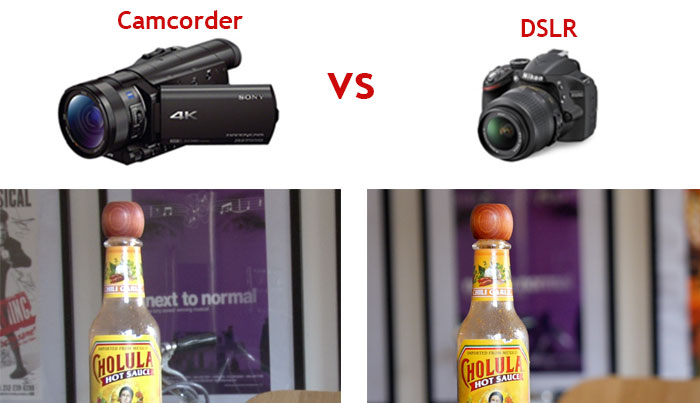 Imagine this bottle of hot sauce was a person you're interviewing for your film. The image on the left was shot with a traditional camcorder, the image on the right was shot with a DSLR.
How to Choose Between DSLRs and Camcorders for Documentary Filmmaking
If you're shooting a lot of fast-paced action footage like a sports documentary or something else that's "run and gun" where there's not a lot of time to set up shots, a traditional camcorder might be a better choice. Why? Because you won't risk "losing the shot" due to the time it takes to manually focus with a DSLR.
If your documentary is going to have a lot of traditional sit-down interviews in it, a DSLR might be a great camera choice. Why? Because you won't have to refocus much if your interviewees are mostly sitting still and talking, and you can make the background look blurry and pretty quite easily. DSLRs sometimes also have better color accuracy.


Left: a still frame from the 2010 documentary Tabloid, which is made up mostly of sit down interviews. Right: a still frame from the 2012 documentary Head Games, which features plenty of sports footage.
The bottom line is, if you have the time to take to set up shots carefully, a DSLR can produce more visually pleasing results. But on the other hand, if you don't have that time or don't want to have to think about focusing manually, a camcorder can be a better option. And of course, you could combine footage shot with both types of cameras (say, interviews shot with a DSLR and action footage shot with a camcorder).
Next, we'll look at a few of the best cheap documentary cameras for filmmakers on a tight budget: both camcorders and DSLRs.
The Best Cheap Documentary Filmmaking Camcorders
Camcorders are a hell of a lot better today than they were in the 1990s when they first started becoming popular. Here are three of the best cheap traditional video cameras for documentary filmmakers:
Canon VIXIA HF G40 Full HD Camcorder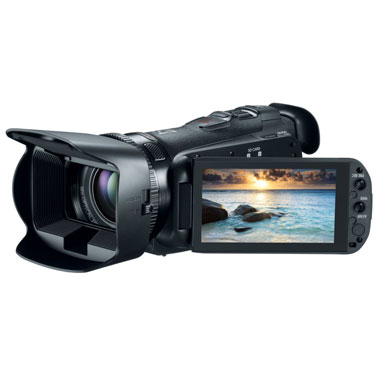 Great documentary film cameras aren't cheap. The other two camcorders in this list are over $1,000, but if you're just looking for something you can pick up and shoot immediately that isn't going to break the bank, we'd recommend the Canon VIXIA G40 in a heartbeat. What do you get? Well, a fantastic camcorder that can produce excellent images, good low light performance, and even the ability to set manual exposure, normally a pro camera feature (the only difference is with the G40 you set exposure in a touch screen menu system whereas with more expensive pro cameras you often get a dedicated physical wheel for that). What this camera doesn't offer is pro XLR inputs, so you'll either have to get a DSLR/camcorder audio adapter, or use wireless lavaliere microphones that already work with DSLRs/camcorders out of the box. This cheap documentary camera can record up to 60 frames per second in 1080p with a wide color gamut. Also available in a kit with other gear like a tripod, extra memory card, carrying case, etc. (If you're looking for a super cheap 4K camcorder instead of a 1080p video camera, we'd recommend instead the Sony FDRAX33.)
Besteker 1080P HD Camcorder with External Microphone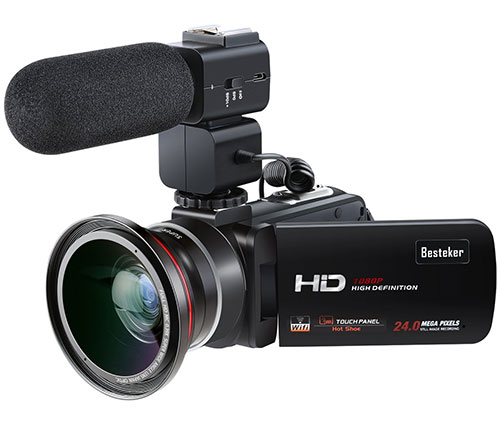 This basic cheap camcorder for extremely tight budgets can do the trick if you just need a camera to document things that are higher quality than your cell phone. It records in 1080P full HD at 30 frames per second, and comes with an external microphone which you attach to the top of the camera to get higher quality sound than an onboard mic would capture. It also comes with a detachable wide-angle lens attachment for optional use. The included battery lasts about two and a half hours. You'll also need an SD memory card to record on (not included). It also has a "night vision" mode and wifi mode to access the photos/videos on your phone wirelessly.
Canon XA11 Professional Camcorder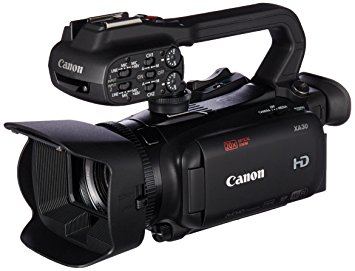 The Canon XA11 is a fantastic pro camcorder. It records on cheap and commonly available SDHC or SDXC memory cards and offers dual card slots for these, so you can record super long events without stopping by auto-spanning from one card to the other. It also features a detachable handle for convenient carrying, and it's the only camera on this list that has pro-level XLR audio inputs– meaning you can use pro-quality audio gear like wireless lavaliere interview microphones out of the box without the need for a DSLR/camcorder audio adapter. Out of the box, this cheap documentary film camera has a built-in stereo microphone and a headphone jack so you can monitor audio as you record (something some cheap video cameras don't offer). Shoots in full 1080p HD.
Canon XF100 (Check reviews & prices
)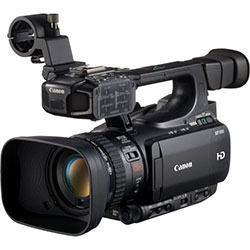 Documentary filmmakers looking for small, light cameras capable of capturing high quality images will likely be interested in the Canon XF100, which weights in at only 2.2 pounds. With a size that small and a weight that light, this versatile camera can be carried into unpredictable situations. It also features a high bitrate 50Mbps recording mode with an MPEG-2 codec, meaning you don't have to transcode your footage before editing it (as is sometimes the case with other codecs).
Panasonic HC-X1000 Pro Video Camera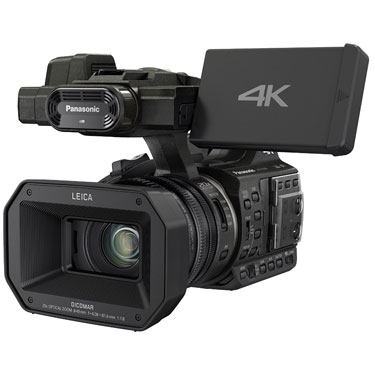 If you're looking for an inexpensive professional video camera that shoots in 4K and accepts XLR pro audio inputs, the Panasonic HC-X1000 is a great choice (if you don't care about the audio inputs, check out this younger cousin model from Panasonic that also shoots in 4K at a cheaper price). The Panasonic HC-X1000 shoots at up to 60 frames per second in 4K or 1080p High Definition, meaning you can slow it down to a normal frame rate when you edit it, resulting in silky smooth slow motion (instead of slightly jerky slow motion like when you try to slow down video that's shot at only 30 or 24 frames per second). We'd recommend this camera highly to anyone looking for a highly capable cheap run and gun documentary camera with excellent autofocus and great visuals. You can even remotely monitor the video that your camera is shooting with the Panasonic Image App for iPhones or Android– a cheap way to replicate what would normally be a multi-thousand dollar remote video monitor.
The Best Cheap Documentary Filmmaking DSLRs
DSLRs are the up and coming way for indie doc filmmakers to get great visuals on a tight budget. Here are our top three picks for best cheap DSLRs:
Canon EOS Rebel T6i DSLR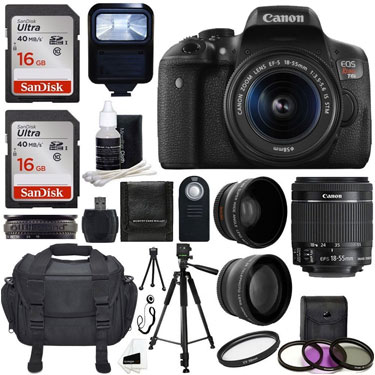 The T6 is the newest of Canon's Rebel line of entry-level DSLR shooters (the less expensive T5 is also still available). The T6 seen here comes with a kit that includes an 18-55mm zoom lens, two other lenses, a tripod, memory cards, carrying case, and a bunch of other goodies. The T6 gives you the benefits of shooting with a DSLR, like the ability to shoot with shallow depth of field for a cinematic look, within a low budget. Note that the one thing it doesn't come with is a microphone suitable for filmmaking. Read our related articles: Shotgun Mics for DSLRs and The Best Lav Mics For DSLR Cameras for that.
Canon 7D Mark II DSLR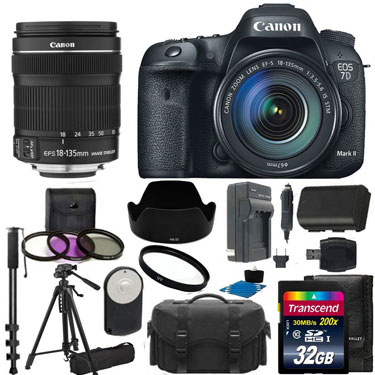 This is one of the absolute most popular cheap documentary filmmaking DSLRs out there today. One step up from the T6i is Canon 7D Mark II which comes with more pro features and even better video capabilities. It features better low light performance and an HDMI out option, just like pro film cameras have (so you can attach larger external displays during interviews or external video recorders to capture footage at a higher quality than the camera can write to a memory card). The 7D MII also has better autofocus than its younger cousin, the T6i, and records video at up to 60 frames per second for better slow motion in post-production (the T6i does only 24 or 30 maximum). The 7D MII kit linked here also comes with a ton of other goodies. Note: you'll still probably want the DSLR audio gear linked above.
Panasonic GH4 DSLR Kit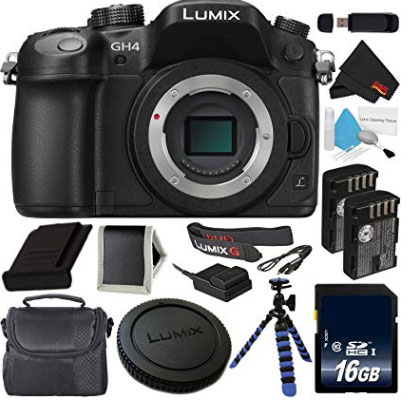 Panasonic revolutionized the DSLR filmmaking game with its GH2 camera several years ago. A few models later, the GH4 is a great low budget but high-quality DSLR for filmmaking. It features extraordinary low light performance, shoots in 4K and records video at the high data rates (i.e. high image quality) that filmmakers want to be able to record at. It isn't quite as cheap as the other two DSLRs in this list but the upgrade is worth it if you're interested in 4K DSLR filmmaking on a budget. The GH4 also has advanced image stabilization tech with Panasonic's newer lenses that greatly reduces camera shake from handheld shooting. The kit linked here comes with a bunch of goodies, including an exceptional 12-35mm lens that works with the GH4's special image stabilization technology. Note: if you like the features of the GH4, you may also want to check out the earlier GH3 model, which has many of the same features but does not offer 4K recording (1080p only). A newer model — the Panasonic GH5 DSLR is available too, but is more expensive. While you can order a first-party XLR audio adapter from Panasonic, we'd recommend getting a much cheaper third party DSLR audio adapter if you're going to want to plug in pro XLR microphones.
Related:
How to Make a Low Budget Documentary Film