Today many documentary filmmakers (and other filmmakers) are shooting on DSLRs because of their ability use large sensors with interchangeable lenses which offer shallow depths of field, resulting in a beautiful picture. But the audio side of DSLR filmmaking is a topic that doesn't get enough attention. (Note: you can also get
DSLR shotgun microphones
specially meant to plug directly into your DSLR camera.)
Unlike traditional video cameras that have XLR jacks to plug external mics, wireless hops, or wireless lavs into, DSLRs often have only a 1/8th inch minijack port, which of course can't provide phantom power to a professional microphone, even if you do have an XLR cable adapter. And worse, some DSLRs (notably Canon models like the 5D) do post-processing like auto-gain control on audio signals from external mics instead of trusting that their signal is set correctly, which results in the audio from even professional mics sounding bad and "hiss-y" during quieter moments.
Luckily, there are now plenty of solutions for DSLR audio recording that address the problems of auto gain control and lack of phantom power. Here are some of the best DSLR audio recording solutions available today:
Solution #1: Separate Audio Recording for DSLRs
Many documentary filmmakers (and other filmmakers) are turning to completely separate audio solutions when shooting with DSLRs today. Some filmmakers don't want to have to trust that the DSLR they're shooting with will record audio properly, and it's hard to blame them when many DSLRs even today have clunky and limited audio menu options that are more suited towards still photography than shooting video.
So as a solution, many filmmakers are using audio recorders separately and then auto-syncing the audio and the video from the DSLRs in post using the software tools built into Final Cut Pro X or Plural Eyes, which works in Premiere Pro, Final Cut, Avid, Vegas, and other popular software. This still of course requires the DSLR to have at least a tiny bit (however soft) of audio signal for the software to sync with. In many ways, it's an old school solution to an old school problem– this is of course how filmmakers dealt with sound in the days of film cameras in the 20th Century with film and sound recorded separately and synced in post-production.
Zoom H4N Handy Portable Digital Recorder (Check reviews & prices
)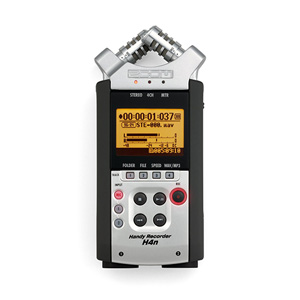 The Zoom H4N is probably the most popular separate XLR audio recorder used with DSLR cameras today.
The H4N offers high quality recording from XLR inputs (providing 48 volt phantom power to professional microphones) at a low cost. It has two built in microphones at the top of the unit, and two XLR ports at the bottom of the unit, allowing for a total of four tracks of separate audio recordings all written to SDHC cards
(max capacity is 32GB for 15 hours of high quality recording or over 500 hours of lower quality audio recording). The resulting AIFF files or MP3 files can be auto-synced to your video on your computer using Plural Eyes.
Tascam DR-100MKII 2-channel recorder (Check reviews & prices
)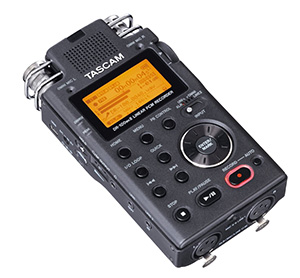 Another well-reviewed DSLR audio recorder is the Tascam DR-100MKII. Instead of four track recording that the Zoom offers, it only offers two track but it the XLR ports on the bottom have locks like a professional video camera does (which the Zoom does not). It also connects directly to your computer via USB instead of requiring an additional SD card reader
which the Zoom does. Like the Zoom however, it this Tascam unit also records on SD cards.
Solution #2: XLR audio adapters for your DSLR camera
It is possible to hook up professional microphones (be they boom mics or lavs) directly to your DSLR camera like the Canon 7D, 5D, T2/T3, or GH2, GH3, GH4, etc with a DSLR audio adapter breakout box. The benefit of this technique is that you don't have to sync up the footage with the sound later on. Of course, on the other hand, it also will make your DSLR rig heavier to carry around. Here are some DSLR audio adapter solutions:
BeachTek DXA-HDV Camcorder XLR Adapter (Check reviews & prices
)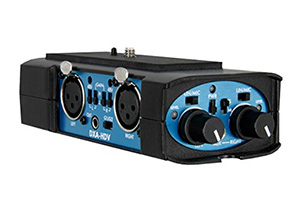 Although you may not have heard of them before, Beachtek is a company that has been providing audio solutions for cameras without XLR inputs for years, and their quality is well known among DSLR users. This Beachtek model allows you to hook professional phantom-powered microphones with XLR inputs into your DSLR with a minijack input (i.e. just about any DSLR on the market today). It has two balanced XLR inputs which can separately be adjusted via mixing dials on the unit's back face. It will screw directly into your DSLR via the tripod jack on its bottom. Also available from Beachtek: a version of this DSLR audio adapter that sits on top of your camera's hot shoe
and functions like a mini boom arm.
JuicedLink Riggy Assist (Check reviews & prices
)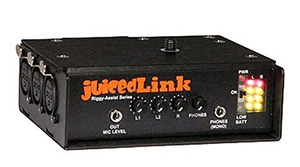 This JuicedLink DSLR audio adapter provides phantom power to external microphones and not one– not two– but three separate XLR inputs, with mixing dials for each on the back of the unit.
The Riggy Assist also offers a handy lighted monitor to let you know if and when your audio peaks too high into the danger zone, which can be helpful especially if you're shooting in low light situations and need to see at a glance if you're peaking. The Riggy Assist also disables gain control that some DSLRs provide, which is handy.
Tascam DR-60D Linear PCM Recorder for DSLR Filmmaking and Field Recording (Check reviews & prices
)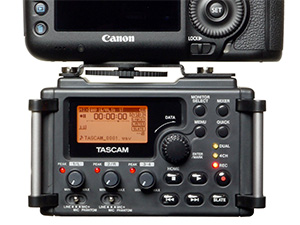 The Tascam DR-60D is quite a unit. It screws directly on to the bottom of your DSLR camera (or, we suppose, could be mounted on the back end of a DSLR shoulder rig
for improved weight distribution). It offers four channels of audio recording, +48V phantom power, and a camera out option. In other words, you can record both to your camera via the minijack, and also to SDHC card on the Tascam unit as a backup simultaneously. In some ways, this is the best of both worlds. It also offers a screen to display audio levels and of course also has dual XLR inputs and easy-to-adjust mixing dials on the back of the unit.
Solution #3: Recording directly into the DSLR with special self-powered microphones
If all you read was the above two options, you might think there's no possible way to connect a microphone directly into your DSLR camera. And it turns out there is, but there's a catch: in order to work, it has to be a special type of self-powered mic with the right 1/8th inch input jack. Since DSLRs don't offer much in the way of phantom power, any external mics must contain their own batteries. That eliminates all but a few options. Luckily, camera electronics manufacturers recognize that this is a growing need, so they're now offering a few options. Here are some of the microphones for DSLR audio available today. (Also see our related articles, The Best Lav Mics For DSLR Cameras and Best DSLR Microphones & Shotgun Mics for DSLRs).
Rode Videomic Shotgun Microphone (Check reviews & prices
)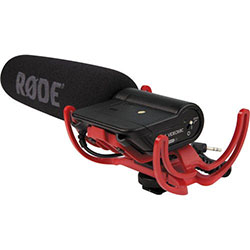 The 800 pound gorilla in this category is the Rode Videomic. The Videomic uses a single 9 volt battery and sits in a rubber shockmount which protects it from getting jostled or picking up too much noise from camera adjustments that you might make during the course of filming. Its pickup pattern is super-cardioid, so you'll pick up as little room noise as possible, allowing the microphone to zero in on your subjects speaking. The unit's shockmount sits on the top of your DSLR's hotshoe or cold shoe port, and plugs into an 1/8th inch mini jack on the side of your camera. The battery lasts just about forever, and the microphone comes with a windscreen.
Azden WMS-PRO Wireless Microphone System (Check reviews & prices
)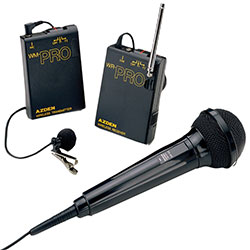 The Azden WMS-PRO Wireless Microphone System is one of the few wireless lavaliere systems that doesn't use XLR output. Instead, this Azden unit uses a normal 1/8th inch jack, meaning it can be hooked directly into your DSLR's external mic port. This particular unit also comes with a standup stick microphone as well, which could come in handy. Both the transmitter and receiver need two AA batteries, side-stepping the need for phantom power provided by the camera.
Movo WMCIC50 Lavalier Microphone System (Check reviews & prices
)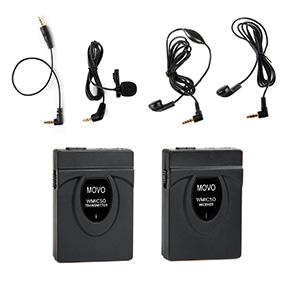 The Movo WMIC50 wireless lav microphone system includes a lavaliere transmitter, receiver (that sits atop your camera's hot or cold shoe), and even a pair of earbuds to monitor the sound you're capturing. Like the Azden unit above, it will plug directly into your DSLR's external microphone port on the side. The Movo WMIC50 has a range of 164 feet in ideal conditions, when there is no RF interference or heavy walls in between you and your subjects.
Note: If you're already considering buying a Sennheiser G3
lav system, that includes a 1/8th inch cable in addition to the standard XLR cable, to connect to your DSLR without an adapter as well.
Related:
The Best Cameras for Documentary Filmmaking
The Top Microphones for Documentary Filmmaking
Best DSLRs for Documentary Filmmaking
Wireless Boom Microphone Transmitters for Filmmakers
Funny Documentaries: The Funniest Documentaries of All Time
List of DSLRs That Shoot 4K Video
Best Documentary Filmmaking Cameras in 2019
Best Headphones for Filmmakers & Editors
Best Shotgun Microphones and Boom Mics for Filmmakers