When Valentine's Day comes around each year, many people just reach for flowers and chocolates. If your beloved is a movie lover, there are many fun and creative gifts you can get them instead. Some are personal and meaningful others add some creativity and fun to movie date nights. Check them out to discover the best Valentine's Day gifts for movie lovers and film fanatics.
1. Custom Home Theater Sign
This romantic gift for movie lovers takes your home theater room to the next level. These cool canvas signs look like a classic movie theater marquee, personalized with the names of your family members. Available in a variety of sizes as a framed or unframed canvas.
---
2. Customized VHS Cover Necklace
Get your loved one a unique movie-themed gift. My Movie Merchandise makes these cool necklaces that feature mini-VHS tapes of any movie. You can have one customized to match your Valentine's favorite movie, the first movie you saw together, or another movie that has a special meaning to your relationship.
---
3. Portable Mini Projector
Let your loved one have movie night anywhere with this portable mini projector. Easy to play content from a variety of devices, including streaming sticks, phones, and computers, this projector is perfect to play movies in your home theater, backyard, or even while camping. The projector has built-in speakers or you can connect to external speakers.
---
4. Custom Couple Movie Poster
This is the ultimate romantic gift for movie fans. Movie Me will create a fully customized movie poster using a photo of you and your Valentine. The graphic design will work with you to create a completely unique movie poster that reflects your relationship in any style you like. They can customize the movie title, tagline, actors' names, release dates, and more. This is an unforgettable gift for Valentine's Day.
---
5. Ticket Shadow Box
This is a fun way to commemorate all your movie theater dates! This ticket shadow box has a slot to insert ticket stubs from movies, theater, and concerts. Fill it with ticket stubs before you gift it to create a memorable and romantic Valentine's Day gift.
---
6. Vintage Blockbuster Earrings
Movie lovers of a certain age remember the joy of going to Blockbuster Video on a Friday night and picking out a movie and some snacks to enjoy at home with friends. These cool earrings are a fun throwback to that magical time and make a cute Valentine's Day gift.
---
7. Dice-Flix Decider Dice
If you and your significant other ever struggle to pick a movie to stream, this set of dice will help you out! Designed with Netflix's classic colors, one die has numbers and the other has "Across" and "Down." Roll the dice to navigate the menu and pick your film. You can roll as many times as you want to get the perfect movie.
---
8. Popcorn Box Cufflinks
The fresh popcorn is one of the best parts of going to the movies! And the guy in your life can show off his love of movie theater popcorn with these cute cufflinks.
---
9. Movie Night Menus Cookbook
Turn date night into the ultimate experience. This cookbook is perfect for movie lovers who enjoy cooking. Turner Classic Movies have compiled complete menus inspired by classic movies. Each chapter covers a different classic movie, offering recipes for dishes and cocktails either featured in the movie or inspired by it. Spend a romantic evening with your love, preparing food, drinking, and watching a classic movie.
---
10. A Year of Movie Dates
This is a romantic movie gift that keeps on giving. A Year of Movie Dates come with 50 sealed envelopes, a card inside each one with a movie title. It also comes with two blank cards, so each person can add a movie to the box. Pick one at random each week, put away your devices, and spend the night watching a movie together.
---
11. Movie Night Popcorn Gift Set
Take your home movie nights to the next level with this Valentine's Day gift for movie lovers. This set includes three types of popcorn and five gourmet popcorn seasonings. Mix and match for tasty flavor combinations.
---
12. Our First Movie Keychain
This is such a romantic gift to commemorate a first date between movie lovers. Dot Dot Goose makes these fully customizable keychains shaped like a movie ticket. It says "Our First Movie" and you can add the title of the movie and even the date.
---
13. Redbox Movie Night Gift Box
If your movie lover has a sweet tooth, this Movie Night gift set will satisfy their craving. With everything you need for date night, this box comes with microwave popcorn, a variety of classic movie theater candies, and a Redbox DVD rental code.
---
14. Custom Couples Popcorn Buckets
This is such a cute gift for Valentine's Day and the fact that it's personalized makes it totally unique. This set comes with one large popcorn bucket and two personal-sized ones. On one side they have the traditional red "Popcorn" design and on the back, it's personalized with vinyl stickers. The large bucket says "You Make My Heart Pop" while the personal buckets will have your name. Include the popcorn gift set to create an awesome gift you can use right away.
---
15. Movie Kama Sutra
A fun and sexy gift idea to add some humorous spiciness to your Valentine's night. Inspired by the Kama Sutra, this book takes romantic moments from classic movies and turns them into sex positions. Try The Potter's Wheel inspired by Ghost or Boombox Serenade inspired by Say Anything….
---
Save on Pinterest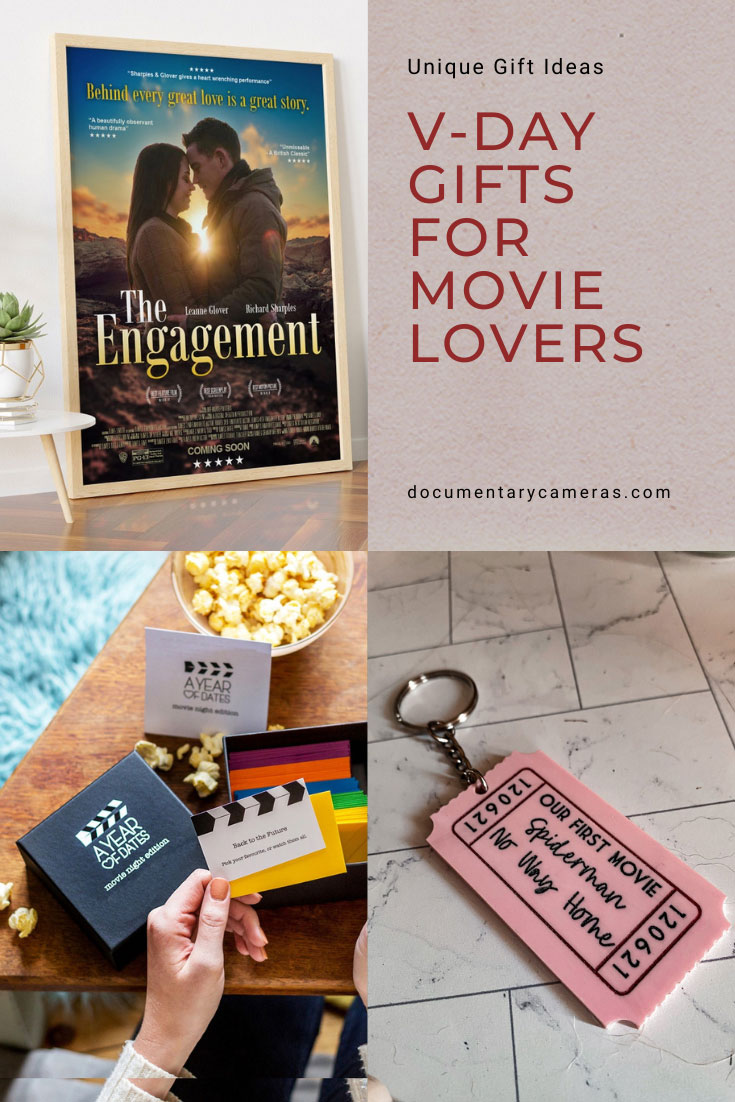 Need more Valentine's Day gift ideas? Check out Valentine's Day gifts for gardeners, spicy hot Sriracha V-day gifts, yoga and meditation Valentine's Day gifts, romantic gifts for readers, and Valentine's Day gifts for writers.