Shopping for the perfect Mother's Day gift can be a daunting task. But if your mom is a huge movie fan, your job just got a lot easier. Many moms enjoy spending their free time indulging in cinema, whether it's at the movie theater or streaming from home on the couch. Harness your move's love of film to find the perfect Mother's day gift and check out some of our ideas for movie-themed presents.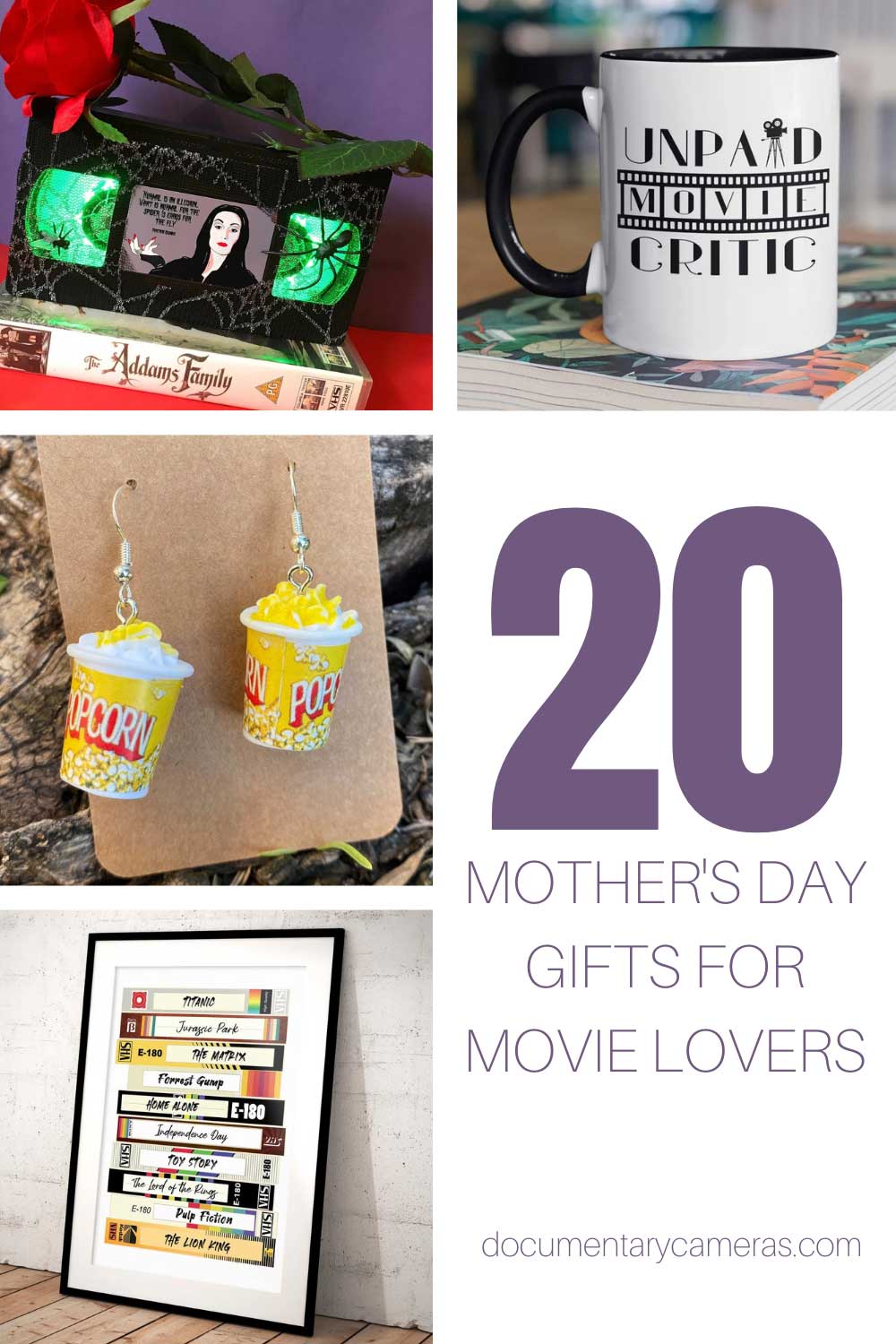 The Best Film Themed Gifts for Mother's Day
1. Retro VHS Tape Light
This gift is a unique art piece that movie lovers need to have on the wall. Nancy's Jars recycled old VHS tapes and turns them into these cool lights. They can be hung on the wall or displayed on a shelf or table. There are seven different color options to match the movie or room decor. If you don't see your mom's favorite movie in the shop, you can request a personal design just for her.
---
2. Cinephile Game
While many movie-related games are trivia-based, this one is a fun new option for cinephiles. In fact, it's actually five games in one! Cinephile is a card-based game with a deck of 150 cards. "Filmography" is an easy game where players compete to name the most movies the actor on the card is in. "Head On" involves a player drawing a card from the deck and holding it to their head while other players shout clues to help them guess who the actor is. "Movie, Actor" has players naming actors and movies in a chain until players are knocked out. "Take Six" is a card game where you can discard your cards by using the rules of Six Degrees of separation. "Six Degrees" has you draw two cards and try to connect the two actors within 6 degrees. With five different games, there's something fun for everyone in the family, but you know movie-loving Mom will dominate.
---
3. Cinema Scarf
This is a fashionable and fun film gift for mom! This infinity scarf features a black and white print of movie illustrations in film strips. The perfect accessory to wear to the movie theater.
---
4. Home Theater Marquee Sign
Make your living room an "official" home theater with this cool Mother's Day gift. Maker Table creates these personalized marquee-style home theater signs from metal. They're personalized with your family name and since they're made to order you can choose from a variety of finishes and colors to match your home decor.
---
5. Movie Projector Wine Rack
If your mom likes to enjoy a glass of wine while watching a moving, then this gift is perfect for her living room. Styled like a vintage projector, this rack holds three bottles of wine and has a basket for collecting the corks from finished bottles.
---
6. Do Not Disturb I'm Watching Movies Socks
This gift is perfect for those days when mom just wants to kick back, relax, and watch a movie. If she wears these socks, the soles will inform the rest of the family: "Do not disturb. I'm watching movies."
---
7. Unpaid Movie Critic Mug
Movie fans often have a lot of opinions about the films they watch and if your mom likes to express them, this is the mug for her! This funny mug says "Unpaid Movie Critic" and is made to order so you can get it in a variety of colors or even in a tumbler for hot drinks on the go. Include some of mom's favorite coffee or tea to create a gift bag she'll really appreciate.
---
8. Glass Microwave Popcorn Popper
One of the best parts of going to the movie theater is enjoying a bucket of fresh, hot, buttery popcorn. Now mom can easily recreate the experience at home. This glass popcorn popper can make up to 3 quarts of popcorn in the microwave. Use the 3-in-1 lid to measure your popcorn and melt the butter. Yum! This is a great addition to family movie night.
---
9. "This is my Lifetime Movie Watching Blanket"
Some moms love classic movies, other moms love horror films, and then there are the moms who love Lifetime movies. This is the blanket for them, perfect to cuddle up on the couch and enjoy the latest Lifetime movie. Made to order, you can get it in a variety of colors as either a plush or fleece blanket.
---
10. Movie Night Gift Box
Movie night deserves some treats and mom will love enjoying this gift box. Each box comes with a "movie night" theme. Since they're made to order, you can customize and request specific treats and candies that your mom loves.
---
11. Personalized Name Movie Clapper
This personalized gift is perfect for a movie loving mom. Summit Custom Cutouts makes these birch wood signs in the style of a movie clapper. It can feature your mom's name or nickname and makes the perfect decoration for your living room or home theater. Choose from four different sizes and a variety of color finishes.
---
12. Evolution of Cinema Apron
If your mom loves to cook, she'll appreciate this movie-themed gift. Inspired by the "Evolution of Man," this apron features illustrations of evolving film camera technology. A fun gift for film geeks and filmmakers.
---
13. The Future of Film is Female T-shirt
If your mom is a feminist film fan, she'll love this t-shirt. It boldly proclaims: "The Future of Film is Female" and celebrates all the female filmmakers revolutionizing the industry. Available in men and women's sizes in classic black.
Check out more feminist film t-shirts.
---
14. Scents of Cinema Movie Candles
Candles are a classic Mother's Day gift but this one has a cinematic twist. By Jules Goods makes essential oil candles based on movies. Each candle is handmade from soy wax with scents inspired by the movies. You can even order a custom candle inspired by mom's favorite movie. This 10 oz candle comes in a glass jar with a wooden wick.
---
15. Cocktails of the Movies Book
If Mom likes to mix herself a drink before she sits down to watch a movie, then she'll love this book. Cocktails of the Movies is an illustrated guide with 72 cocktails related to the greatest films in cinematic history. This book is a great gift for beginning mixologists as it also covers all the basics of making cocktails. Use the book as a guide to pick movies to watch or a fun way to liven up cocktail hour.
---
16. Popcorn Bucket Earrings
The perfect accessory for a night at the movie theater! Handmade by Mountain Violet Studio, these miniature popcorn buckets are transformed into cute earrings. It's a fun Mother's Day gift for movie loving moms.
---
17. Custom VHS Tape Poster
This is a fun and unique gift for any mother who remembers the old days when we taped movies off TV. This fully customized poster features a stack of VHS tapes with labels featuring different movie titles. You provide the names of your mom's favorite movies and they create a personalized poster. You can even pick the size. Just print and have it framed to give mom an amazing movie-themed art piece to hang at home.
---
18. Movie Logbook
This gift is the perfect way for mom to keep track of her movie watching. This Movie Logbook is more than just a notebook to write down movie names, it features review pages to fill out with details about the movie and your opinions on it. A must have for movie fanatics.
---
19. Old Hollywood Movies Vintage Coaster Set
Protect mom's furniture with these coasters that celebrate old Hollywood. This set of 6 vinyl coasters features movie posters from classic films like Casablance and Breakfast at Tiffany's. Each coaster is 4″.
---
20. Film Reel Desk Clock
This unique piece of decor will set mom apart from all the casual film lovers. Dream Great Dreams takes vintage film reels and turns them into unique desk clocks. Perfect to display on a shelf in the living room or to track showtime in your home theater.
---
Still searching for the perfect gift for your mom? Check out Mother's Day gardening gifts, meditation and yoga gifts for mom, and Mother's Day gifts for book lovers.