A kit full of expensive cameras and film gear is no good if it ends up broken. Cases are important, and they come in two basic categories: soft equipment cases and hard equipment cases. Soft equipment cases are often better for one man band type setups or situations where you need to carry your camera gear with you wherever you go (think: making a documentary film in the Himalaya mountains). Hard equipment cases are better for when you're traveling by air and need to check baggage. Hard cases can also be more secure than soft bags and they're also more easily locked and also waterproof.
In this list of the best hard equipment cases for film and video gear, we'll be going from smallest size and working our way on up to the largest size.
Best Hard Equipment Cases for Camera & Film/Video Gear
Pelican 1200 Case with Foam for Camera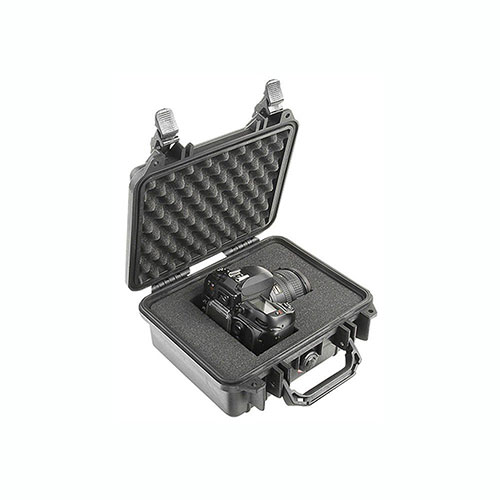 If you're looking for a small hard case with a briefcase style handle, the Pelican 1200 is a great choice. The inside measures 9.25 inches by 7.12 by 4.12 and it comes with foam to cutout to fit the correct size of your gear. We'd recommend this hard equipment case for storing GoPro action cameras, Lav microphones or small small documentary film DSLR cameras.
Article continues below
Pelican 1600 Camera Gear Hard Case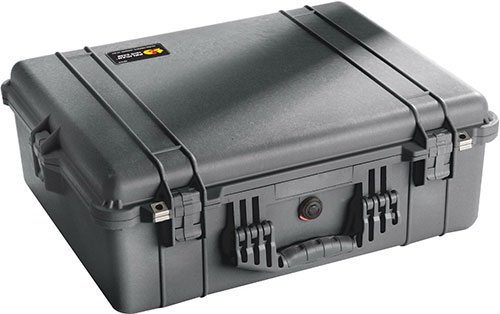 If you're looking for a larger DSLR camera case or case for a larger traditional video camera that still fits the briefcase form factor, the Pelican 1600 is one of the industry standard equipment hard cases. It features the same rugged styling of all Pelican cases and has a lid that locks with padlocks (not included, but Pelican makes one). It's watertight and crushproof and comes in black. The Pelican 1600 equipment case also ships with foam inside which you can cut to the correct dimensions for all your gear.
Pelican 1510 Carry On Camera Case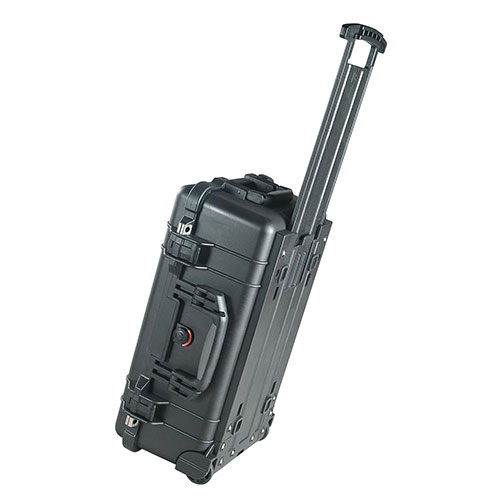 The Pelican 1510 Carry On Case is a solidly built equipment hard case perfect for storing DSLR cameras, traditional pro video cameras, or other gear. It is the maximum size that the FAA allows for carry ons, measuring 22 inches long by 13 inches wide by 9 inches deep and is made out of hard plastic. Like all Pelican equipment cases, this carry on style case is watertight, crushproof and dustproof and weighs about 12 pounds. It has wheels and a retractable handle– just like a normal rollerbag luggage, and comes with foam inserts which you can cut to fit the exact right size that your camera or other film equipment needs.
Pelican 1630 Film/Video Equipment Hard Case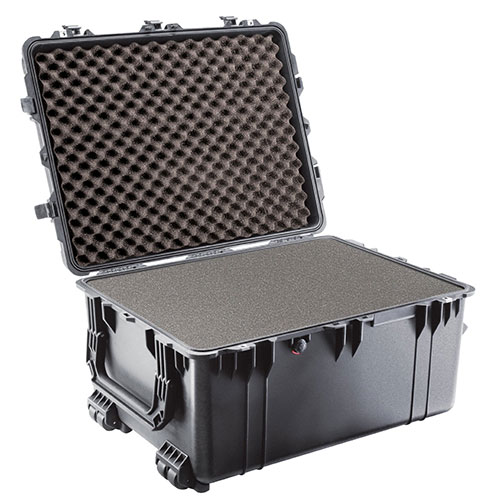 The next size up is the Pelican 1630 "big bertha" case. It has an interior dimension of 27 inches by 21 inches by 15 inches and is quite spacious (as well as heavy– the case alone weighs 18 pounds). Luckily it comes with built in roller wheels and an extendable handle. Like other Pelican cases, it comes with cuttable foam for your gear as well as sturdy latches to lock the case if needed. Note: If you're getting the Pelican 1630, you may also want to consider getting the lid organizer that Pelican makes specifically for this product, which can help you utilize the extra space in the top lid to store knick nacks like gaffe tape, power cords or extra batteries.
Pelican 1720 Long Case with Foam, Black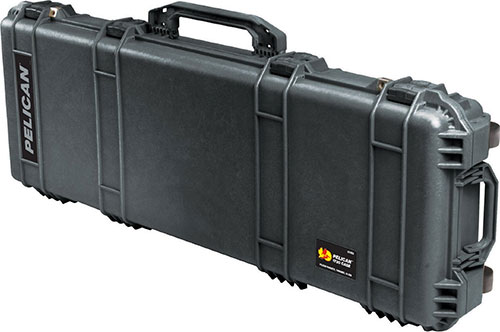 The Pelican 1720 is commonly used by rifle aficionados but it also can work as a case for long gear such as skinny tripods or lighting stands.
The Pelican 1720 measures 42 inches by 13.5 inches by 5.25 inches on the inside and comes with the same waterproof / mudproof / dustproof / crushproof rugged construction as other Pelican cases.
Related:
Best Soft Equipment Cases for Camera & Film/Video Gear
Best Documentary Filmmaking Cameras in 2019
Best Tripod Carrying Cases (Hard & Soft Tripod Cases)