Above: the Canon C100, listed below.
Looking for the best video camera to shoot a documentary film with? We've got some of the top documentary film cameras being used to shoot docs today. Below you'll find a mix of DSLR cameras with large sensors, traditional video cameras with XLR inputs and hybrid cameras like the Canon C100, pictured above, that have both XLR pro audio inputs and large sensors so they can get shallow depth of field and "cinematic" imagery.
Best Cameras for Documentary Filmmaking
Panasonic DVX 200 (Check reviews & prices
)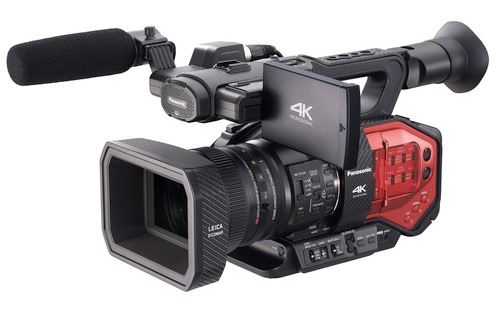 The Panasonic DVX 200 is a relatively new documentary filmmaking camera, first available in late 2015. But already it's making waves in the filmmaking community because it combines a large micro four thirds sensor with all the run and gun ergonomics and manual features of a traditional video camera. That means that the DVX200 can create super shallow depth of field and beautiful cinematic images while still offering razor sharp intelligent autofocus and XLR inputs. In fact, when you combine the excellent color grading options that the DVX 200 gives you with V-LOG, plus the great image stabilization and high bitrate recording in 4K (up to 60P for slow motion), we're hard-pressed to point to another professional video camera on the market today that is better than the DVX 200 for documentary filmmaking. Read more about it in our full Panasonic DVX 200 Review.
Canon C100 (Check reviews & prices
)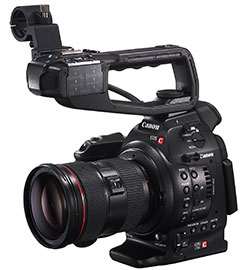 The Canon C100 and its more powerful Canon C300
brother model are some of the best documentary film cameras today because of their extremely high image quality, ability to use Canon EF lenses natively and reasonably price range. The C100/C300 combine the large sensor size of DSLR cameras that allows you to get shallow depth of field in say interview setups, with XLR inputs that documentary film DSLRs often lack, so you can still hook up pro sound gear. The ergonomics of the C100/C300 are somewhere in between that of a DSLR and a traditional pro video camera but we're including it in the traditional pro video camera category because of its XLR inputs and other manual controls that aren't buried deep in menu systems.
Sony PMW100 (Check reviews & prices)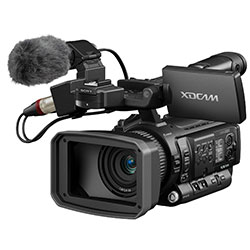 Sony's professional video cameras have long been a staple of documentary filmmakers' toolkits around the world. One of the latest cameras in their professional lineup that's starting to gain ground is the Sony PMW100, an XDCAM based professional camcorder whose compact size but manual controls are proving to be an impressive combination.
Its ability to record at a relatively high 50Mbps bitrate in a 422 colorspace is also quite impressive for a camera of its size and weight class.
Sony FS7 Super 35mm Camera (Check reviews & prices)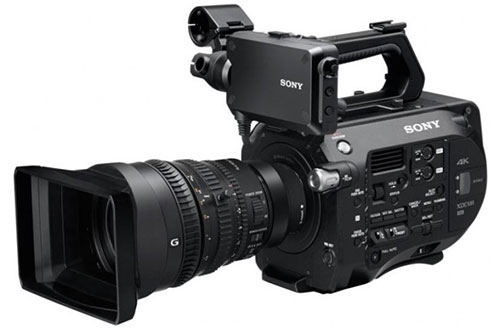 The Sony FS7 is perhaps the top documentary filmmaking camera available today. It's got a Super 35mm sized CMOS sensor for capturing beautiful images with gorgeous shallow depth of field and accepts Sony E-mount lenses (with optional adapters for EF/PL mount and others). It records up to 4K at up to 60P, an impressive feat that allows for silky smooth slow motion in post-production, and even goes up to a jaw-dropping 180fps in 1920 x 1080P HD mode for an incredible "the world just slowed down" look. The FS7 records on Sony's XQD media cards at up to 600Mbps (possibly the highest bitrate of any camera under $50,000) and can also record to external HD-SDI or HDMI hard drives as a backup or alternative recording solution. Also available with an amazingly great lens in kit form here. You may also wish to consider the younger brother camera, the less expensive FS5.
Canon XF100 (Check reviews & prices
)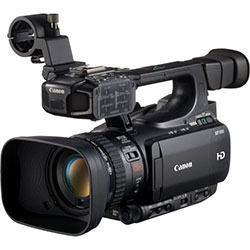 Documentary filmmakers looking for small, light cameras capable of capturing high quality images will likely be interested in the Canon XF100, which weights in at only 2.2 pounds. With a size that small and a weight that light, this versatile camera can be carried into unpredictable situations. It also features a high bitrate 50Mbps recording mode with an MPEG-2 codec, meaning you don't have to transcode your footage before editing it (as is sometimes the case with other codecs).
Sony NEX-FS100 (Check reviews & prices
)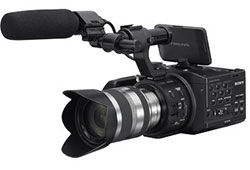 The Sony FS-100 is an unusual camera at first glance. It allows for large interchangeable lenses (providing the ability for shallow depth of field), and also records AVCHD on SDHC cards
like a DSLR. But its ergonomics are better than DSLRs and provides 2 XLR inputs like a traditional video camera. It also provides HDMI out and records in 60p which allows for smooth slow motion shots in post production. With a CMOS sensor equivalent in size to Super35mm film, this camera is a solid choice for many documentary filmmakers.
The best Cheap Documentary Film Cameras
Related:
10 Accessories Your Documentary Film Camera Kit Needs
5 Things to Consider Before Buying A Documentary Film Camera
Lavaliere Microphones for Documentary Film
List: Top DSLRs for Documentary Filmmaking
Documentary interview lighting kits
Why Use Panasonic GH4/GH3 Cameras for Documentary Filmmaking?
List of DSLRs That Shoot 4K Video
Best Low Budget Documentary Film Cameras in 2019
Best Shotgun Microphones and Boom Mics for Filmmakers
Complete documentary filmmaking equipment list