Film and video tripods are notoriously some of the most difficult objects to fit into cases but they're extremely important to protect nonetheless. A variety of case manufacturers have made special purpose-built tripod carrying cases to protect tripods when you travel. Soft tripod carrying cases may work better for some situations (such as when being light is the first priority) whereas hard tripod carrying cases may work better when you need to check a tripod for a round-the-world flight.
Here are our picks for the best tripod carrying cases:
HPRC 6300W Series Hard Case for Tripods with Interior Kit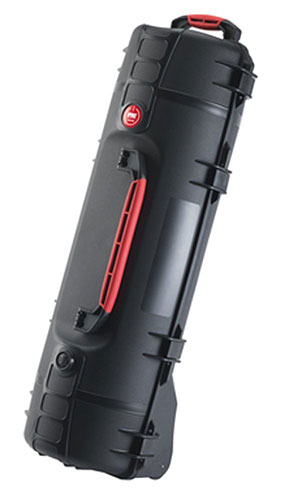 HPRC is an Italian company that makes cases for photographers, police, military, and other users of heavy-duty industrial cases. The HPRC 6300W series tripod case is an extremely durable tripod carrying case that allows you to securely stow your tripod and pack it away to be checked on an airplane or thrown in the back of a grip truck with several other cases stacked on top of it. It has wheels on the bottom (luckily because it weighs 12 pounds before you even put the tripod in it), and measures 10.6 inches by 9 inches by 36 inches long with velcro straps inside to secure your tripod. You can also store a lighting stand or two with your tripod if your tripod is narrow enough (and many these days are). Find more HPRC tripod carrying cases here.
Manfrotto MB MBAG80PN Padded 80cm Tripod Bag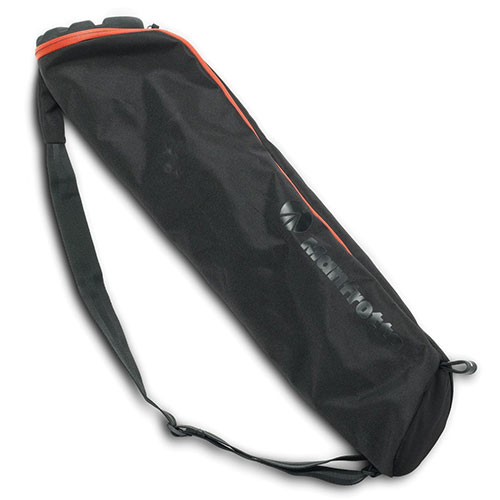 Manfrotto is well known for making reasonably priced pro tripods, and they make carrying cases for their tripods as well as other manufacturers' tripods as well. The Manfrotto MBAG 80PN is a soft tripod carrying case that is quite durable, despite being a soft case. It is a one-piece tripod carrying case featuring a long zipper down the side as well as a zip-off top, meaning you don't need to zip off the entire length of the case to remove or insert your tripod. It's water repellant and its interior measurements are about 29 inches long by 9.5 inches wide by 6.69 inches wide around the step with an expanded tripod headroom area with a width of 8.27 inches. At only 1.3 pounds, it's one of the lightest tripod carrying cases around. Browse other Manfrotto tripod cases here.
Neewer Tripod * Lighting Stand Carrying Case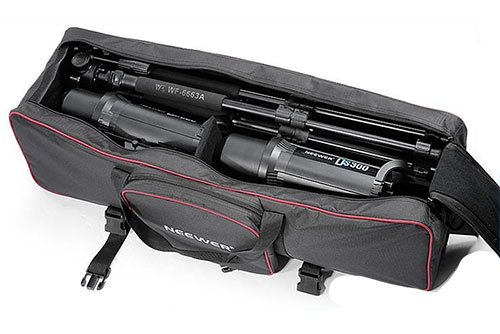 Tripod cases are awkward and oblong, almost by their very nature. If you're looking to carry more than just your tripod, the Neewer tripod & lighting stand combination carrying case could meet your needs. It offers a generous amount of internal room for a tripod, lighting stands, and even lights for your documentary interview lighting kit. Its dimensions are 35 inches long by 10 inches wide by 10 inches deep.
Related:
Best Soft Equipment Cases for Camera & Film/Video Gear
Best Hard Equipment Cases for Camera & Film/Video Gear
Cheapest 4K Video Cameras for Documentary Filmmaking
Best Documentary Filmmaking Cameras in 2019
Best Tripod Carrying Cases (Hard & Soft Tripod Cases)