If you're looking for the best handheld microphone for interviews, you're in the right place. In this article we're going to run down some of the best "reporter microphones" and ENG microphones (Electronic News-Gathering microphones), the type you see reporters using on television. We'll also look at some accessories you can use to make them wireless or add microphone cube logos to attach your own branding. First up, let's look at the best interview microphones themselves!
Recommended reporter style handheld ENG microphones:
Shure VP64A Omnidirectional Handheld Microphone
Shure, the well known manufacturer of the classic instantly recognizable SM58 "ice cream cone"/"stick microphone," provides this model of handheld mic for reporters. It's omni-directional, meaning it has roughly a circular pickup pattern capable of picking up both a reporter and a person they're interviewing asking them questions. Comes with a windscreen for outdoor use and a microphone mount. First introduced in 2003 this rugged ENG microphone is one of the industry standard mics for TV reporters around the world. Has an XLR plug at the end (if you have a camcorder without XLR inputs or a DSLR see this article about XLR adapters with phantom power or use one of the wireless solutions listed later in this article).
Rode Reporter Omnidirectional Dynamic Interview Microphone
The Rode Reporter microphone is a newer entrant into the interview microphone category and it's getting rave reviews. It features an extra long stem which allows you to get closer to the action even in situations where there are many reporters gathered around a single person. The Rode Reporter microphone is omni-directional so it can pick up both the interviewer's voice as well as the interviewee's voice, no matter the direction of the mic. It also comes with a handy carrying soft bag and an optional over-the-top flag for your logo sticker. Has an XLR plug at the end (if you have a camcorder without XLR inputs or a DSLR see this article about XLR adapters with phantom power or use one of the wireless solutions listed later in this article).
Sennheiser MD 46 cardioid interview microphone
The Sennheiser MD46 is a premium quality handheld interview mic with a special design to reduce wind noise and handling noise of your hand adjusting its grip on the stem. Unlike the other microphones in this list, this is a cardioid microphone which is well suited for noisy outdoor environments because it will isolate the sound of your reporter instead of the background noise. Note: Sennheiser also makes a omni-directional version of the same microphone. Features rugged metal housing and a long stem. Has an XLR plug at the end (if you have a camcorder without XLR inputs or a DSLR see this article about XLR adapters with phantom power or use one of the wireless solutions listed later in this article).
How to make an interview microphone wireless:
There are two basic ways to have a wireless microphone for street interviews. You can either plug in a wireless transmitter and battery pack to the bottom of the microphone, or you can use a special microphone that's already wireless out of the box, and hook either of these up to a wireless receiver which is connected to your camera. Here are our picks for the best wireless interview microphone solutions:
Sennheiser Wireless Microphone System with Plug on Transmitter, Receiver, Lavalier Mic & Handheld ENG microphone
If you're looking for all the interview microphone basics in one bundle, this is the set for you. It includes a microphone for interviews (DSLR compatible), a receiver to attach to your camera (camcorder, pro video camera or DSLR compatible– both XLR and 1/8th inch or 3.5mm jacks are included), plus a lavalier microphone transmitter pack and a plug on transmitter for the handheld microphone. It even comes in a handy Pelican hard case to keep your microphone kit protected. The plug on transmitter will also work with shotgun microphones on boom poles to make them wireless too (although neither a boom pole nor a shotgun mic is included). Note that if you already have a Sennheiser G3 lav kit and a handheld microphone for interviews, you can buy the plug on transmitter separately (just make sure you get the right model for whichever wireless band your Sennheiser G3 lav receiver uses– there are multiple bands available).
Saramonic Wireless XLR Microphone System with XLR Plug-in Transmitter, & Receiver Unit
If you've already got a handheld ENG "stick" microphone or you're planning to purchase one of the models we've listed earlier in this article and you want to make it wireless, this Saramonic kit is what you need. It includes a transmitter which plugs directly into the bottom of your microphone's XLR port and provides power, and a wireless receiver which you can mount on your camera. Both units have easy to read LCD displays and a range of up to 300+ feet. If you have a DSLR or camcorder this will work with your camera as well since it comes with both an XLR cable and a 3.5mm headphone style jack output on the receiver unit.
Note: Saramonic also offers a wireless microphone and transmitter kit.
Interview microphone cube logos/Handheld microphone flags: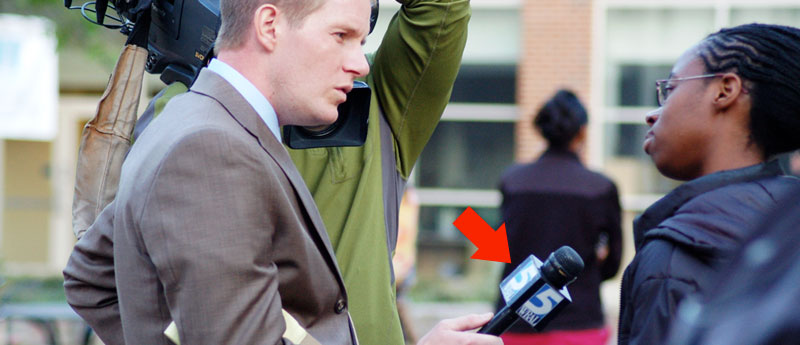 On television news you frequently see reporters holding microphones with cube shaped or triangle shaped logos on their stems. These microphone cube logos are officially called microphone flags, and they're a combination of a plastic cube (or triangle) with printed logos upon them. Here are some microphone flags or "microphone interview cubes" to choose from:
Auear Square Cube Shaped Interview Microphone Flag
This basic microphone cube for a station logo comes in white and is large enough to display a 6.7cm x 5.1 cm logo on each of its four sides (2.64 inches by 2.01 inches). Its diameter is 3.9cm, appropriately sized for most professional electronic news-gathering microphones (handheld reporter style microphones) to be held securely with its foam insert.
Triangle Mic Flag for Reporter Microphones
This microphone flag for ENG microphones (handheld reporter microphones) is 9.4cm by 5cm (3.7in x 1.97 in) and has a 3.9cm hole to fit a microphone stem into. Also available in a white version. Made of durable ABS plastic.
Rycote Triangle Mic Flag for Reporter Mics
This triangular microphone flag ("microphone interview cube") grips your interview microphone with rubber vanes instead of foam which ensures that it won't slip or wear out over time. Plus you can remove vanes to achieve a custom fit, depending on how thick or thin your microphone is. This model is also available in a cube version which is less expensive.
Additional accessories for microphone for street interviews:
Foam Mic Cover Handheld Microphone Windscreen, Black
If you're planning on conducting interviews outdoors, using a foam windscreen will cut down substantially on wind noise. This 5 pack of foam microphone windscreens is shaped appropriately for news interview type microphones (ENG).
Balanced XLR Cable Premium Series Microphone Cable, 25 Foot
If you're not planning on using your reporter style microphone wirelessly (see the section on wireless handheld mics above) then you'll need an XLR cable to attach it to your camera. A 25 foot cable is often a good mid-length choice for this purpose and this XLR cable we've chosen is great quality and comes in several different colors for visibility to minimize the chance people will trip over it. It also comes in different lengths in case you want a shorter or longer cable.
Reusable Cinch Straps (10 pack)
XLR cable ties are a must if you have any lengths of XLR at all in your workflow. These handy velcro cable ties come in a 10 pack are measure 1 inch wide and 12 inches long– plenty long enough for even a long XLR cable. They attach to your cable and then wrap around either the full coiled cable or a section of it to make it shorter, to keep it snug and secure.
Frequently asked questions about interview microphones: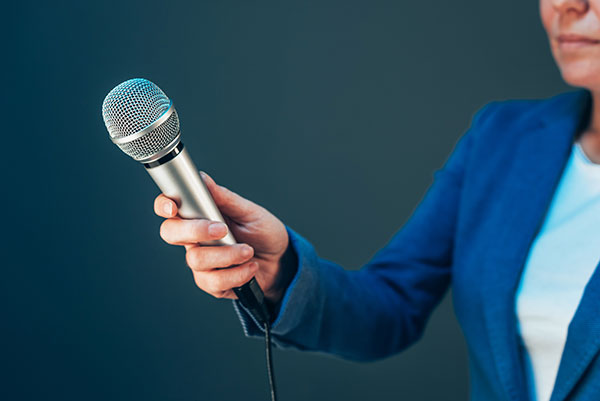 What is the best microphone for DSLR interviews?
Any of the microphones used in this article will work with a DSLR if you use an XLR converter box for DSLRs. (In the same way, any of these models with a breakout box can be an interview microphone for camcorder use.) However if you want an interview microphone that works natively with 3.5mm 1/8th inch jacks out of the box without a converter, we suggest considering the wireless Saramonic Handheld Microphone which comes with both an XLR cable and a minijack for smaller cameras. Plus, it's wireless!
What is the best microphone for interviews with iPhone or Android?
The interview mics listed in this article will not work with cell phones since your phone doesn't have an XLR input jack. But the good news is there are some microphones specifically designed for use with smartphones. If you have an iPhone or iPad we recommend this model, and if you have an Android phone we recommend this one.
What is the logo cube on a reporter microphone called?
The cube or triangular logo block on a reporter's microphone is called a microphone flag, flag, or station ID tag.
Related Articles & Resources:
Ultimate Guide to the Best Lavalier Microphones
Ten Killer Documentary Filmmaking Interview Tips
Best Interview Lighting Kits for Documentary Filmmakers
List: Top Shotgun Microphones for Documentary Filmmaking
Best Wireless Lavaliere Microphones for Documentary Film
How to mic a documentary style sit down interview
Microphone & Audio For Film/Video Guide