Professional video lighting kits are often large, heavy, and bulky which can be extremely inconvenient especially when you're traveling to a video shoot or have limited space to pack all your video gear in. Thankfully there is now a slew of small and compact video lights available which take up very little space. Some of the compact video lights we're going to list in this article work with batteries meaning you can have a fully battery-powered video lighting system, so you can take your gear anywhere and be untethered to walls and power outlets. We've gathered some of the top compact video lights together in one place for you.
The Best Small & Compact Portable Video Lighting Kits
Wescott Ice Light 2
The Ice Light 2 is the sequel to Wescott's original ultra-compact cylindrical video light. It features a super bright LED array with very consistent color temperature lighting output, packed into a 30 inch by 3 inch round light stick. It features a removable, rechargeable battery (so you can purchase extra batteries and even use this light outdoors without access to a power outlet). Watch this video to learn more about some of the features of the Wescott Ice Light 2:
The Ice Light 2 weighs less than 20 ounces (just over one pound) meaning it's easy to use handheld or mounted on a small, compact lightweight lighting stand. It has an LED display on the rear control-side of the unit which allows you to take note of the light settings so you can re-create certain looks easily. It also works over Bluetooth with your iPhone or Android device to allow you to wirelessly adjust a single Ice Light or multiple lights without having to walk up to them. This is especially helpful when you're shooting with a limited crew or one-man-band because you can instantly see the changes that subtle lighting level adjustments make on your camera's monitor without having to walk back and forth between the light and your camera over and over again. Comes with barn doors for adjusting directional light as well as gel clips to add on filters to change the color of the light (which is daylight balanced out of the box).
---
PIXEL Handheld RGB LED Light
The PIXEL Handheld LED Light is a cheaper generic version of the Wescott Ice Light. It comes with some trade-offs, like the lack of a replacement battery, but it also has one possible benefit: the fact that one side of the unit can provide daylight balanced light, and the other side of the reversible round lighting unit can provide tungsten balanced light, which might be convenient since you don't need to use filters to match the light temperature. This generic version is also lightweight (about 2 pounds) and can run for about two and a half hours before it needs to be either recharged or plugged into a power outlet. Also comes with its own carrying case, power cord, and mounting adapter which lets you attach it to a lighting stand.
Wescott Flex 1′ x 1′ X-Bracket Mount Daylight Set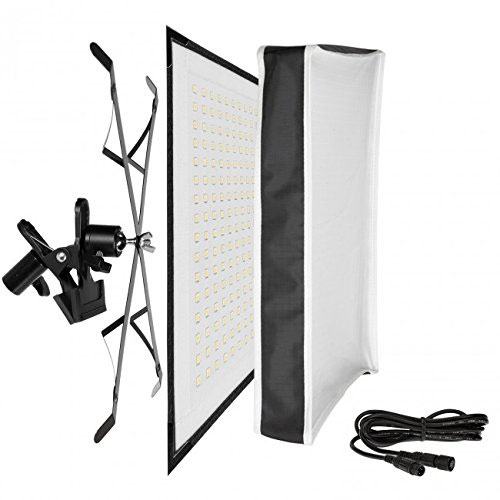 The Wescott Flex lighting system is a new take on interview lighting: a 1 foot by 1 foot light that is flexible enough to fold up into a small lighting case. This particular Wescott Flex kit comes with a mounting bracket and a soft-box light diffuser to attach this light to a lighting stand (not included but available separately) and a dimmer which can be used in conjunction with a portable battery pack. The Flex light provides a surprising amount of light for such a small and light and flexible system that you can take with you anywhere. Perfect for filmmakers who need to travel with their lights and set up in cramped spaces. Browse other Flex light products here.
Kamerar BrightCast Flexible LED Video Light Panel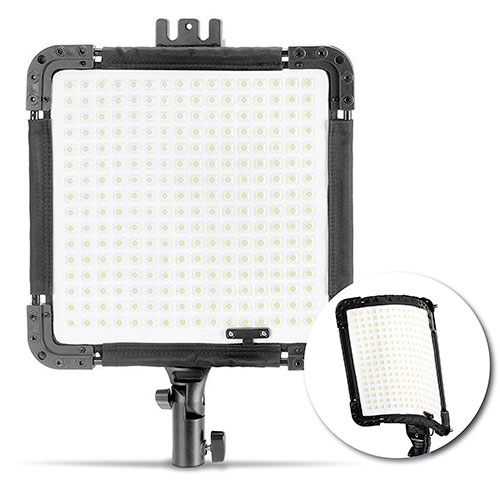 The Brightcast Flexible LED video light is a cheaper generic version of the Wescott Flex Light which measures 12 inches by 12 inches and will break down to fit into even a tight space in your video or film gear carrying case. It's dimmable and it features 256 bi-color LEDs that can replicate either daylight (5600K) or tungsten indoor lights (3200K). And, to top it off, this compact video light is also water-resistant, dustproof, and drop-proof. Comes with mounting accessories and power cable (you can also purchase a custom size soft-box to diffuse the light on an interview subject if desired). Also works with an optional Sony V-Mount compatible battery, sold separately.
Pergear Lightmate Plus CRI 96+ 5500K Dimmable 960 Led Video Light Panel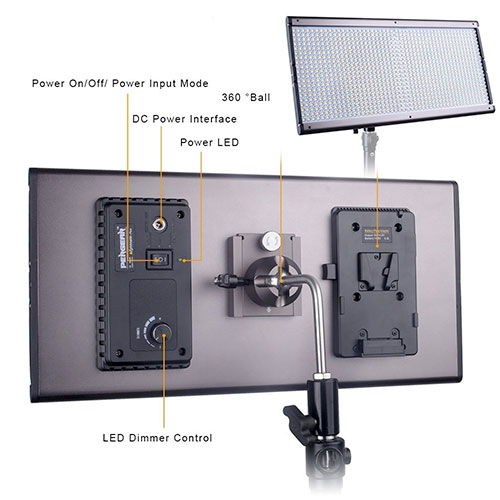 This ultra-thin LED light is only about a half-inch thick and 16 inches long and 8 inches wide– small enough to tuck away into small video gear cases. It's dimmable and can be powered either by the included power cable or with an optional Sony V-Mount compatible battery, sold separately. This LED light comes with a ball-joint mounting adapter that sits on a standard lighting stand and can adjust easily to a wide variety of custom mounting angles. Out of the box this thin and light LED video light is daylight balanced, though you could gel it to give a different color.
Frequently asked questions about compact video lighting kits
How can I shoot professional looking interview video footage? If you're new to shooting video for documentary films, you may need to brush up on your interview lighting skills. We recommend purchasing an instructional DVD called "How to Setup, Light & Shoot Interviews" which teaches you the basics of interview lighting, no matter what kind of lighting kit you're using.
Can I run any of these compact video lights off a battery? Yes, several of these small video lights can be powered by batteries. Where available we've linked to the battery products that you need to run them without a power outlet. Having a battery powered video lighting kit is a great option because it allows you to eliminate messy extension cables and also lets you set up interview lighting setups or shoot outdoors at night or in dark conditions like in caves, etc.
What is the most lightweight video light? On this list of lightweight professional video lighting gear that distinction probably goes to the Wescott Ice Light 2, which weighs a tiny bit more than a pound (~20 ounces).
What type of gear case should I pack away my video lights in while traveling? Since your gear is an investment, it's important to protect it with a secure carrying case. Check our articles about cases: best soft equipment cases for film/video gear and best hard equipment cases for film/video gear.
Related Articles About Professional Video Interview Lighting Kits:
10 Must Have Accessories for Your Film Lighting Kit
Best Interview Lighting Kits for Documentary Filmmakers
Cheap LED Video Lights & LED Lighting Kits
How to Make a Video With a White Background: A Step By Step Guide