These days more and more small and light DSLRs are capable of shooting high resolution 4K video (3,840 x 2,160 UHD or Ultra High Definition video). And luckily, the prices for these cameras have been dropping rapidly as well. Here is a list of DSLRs that shoot 4K video:
Sony a7S II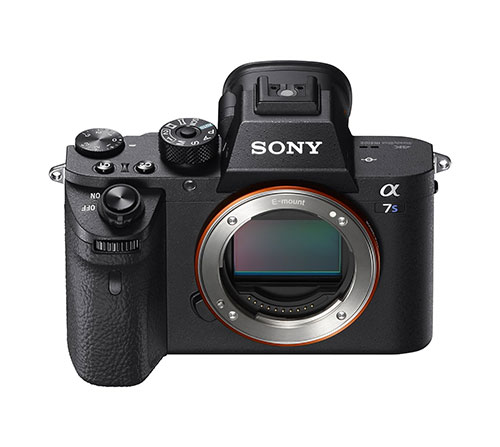 The Sony a7s II offers both 1080p and 4K video recording and incredible low light performance in a compact DSLR body. It also offers S-Log 3, an undeniably impressive professional-grade color mode that allows you to shoot footage quite flat, preserving absurd amounts of detail for later color correction. If you're planning to do some heavy post-processing for color correction after you shoot, the Sony a7s II will provide you with an insane amount of color information to push lighter or darker, meaning your work may even come out looking more like a Hollywood film than a documentary. Maybe that's a slight exaggeration but the results with the a7s II's S-Log 3 are nothing short of bananas. It accepts E-Mount lenses and combines them with three axis video stabilization (key in a DSLR where camera shake is inevitable) and great autofocus for a DSLR. It also offers 120 frames per second shooting in 1080p. Even though this is a relatively new camera, we predict there will be a lot of great documentaries (and great looking documentaries) shot with it.
Panasonic GH4K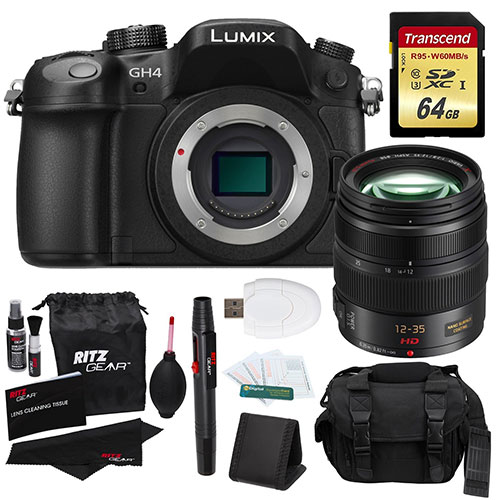 Holy cow, this is quite a camera. Panasonic started making really solid and respected DSLRs for video with the GH2, and with this highly anticipated iteration they added 4K video recording (more than twice the resolution of 1080p), better quality image processing, and an optional (but pricey) XLR interface
that plugs into the bottom of the camera, allowing you to connect professional microphones. The GH4 records on cheap SDHC or SDXC cards and you can also buy additional batteries cheaply. Note however that unlike many other DSLRs, this camera is a Micro Four Thirds camera, meaning it uses M4/3 lenses
made by a variety of manufacturers. One key advantage of the Panasonic GH series has over some of Canon's cameras is it has a headphone jack and adjustable audio input instead of auto-only audio levels. It's not surprising that this small and light camera is turning a lot of heads in the documentary filmmaking community.
Check out our recent article titled Why Use Panasonic GH4/GH3 Cameras for Documentary Filmmaking? for more information.
Panasonic DMC-FZ1000 4K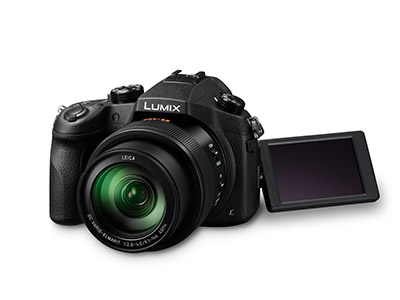 The recently-released Panasonic FZ1000 4K is the younger cousin of the GH4K (above). Like its cousin, the FZ1000 shoots full ultra high definition 4K video at 30 frames per second (as well as lower resolution such as 1080p at frame rates of up to 60p for slow motion). It also has an articulating viewfinder on the back for under $1,000. That's a pretty hard deal to beat. It doesn't have interchangeable lenses, but then again neither do most traditional documentary film video cameras. Note that because it shoots in 4K video at a high data rate you'll need to pick up class 10 SDXC memory cards
to shoot with.
Related
What Are The Best Video Cameras for Documentary Film?
What are the Best DSLR Audio Adapters for Sound?
Lavaliere Microphones for Documentary Film
Which Action Cameras & GoPros shoot in 4K?
Best Documentary Filmmaking Cameras in 2019