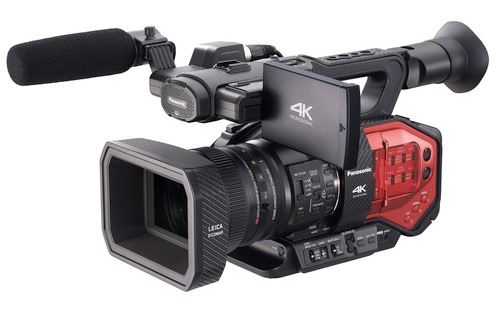 The Panasonic DVX 200 (check current price on Amazon) is out now and people are wondering: is it worth it? Although the DVX200 looks a lot like many other traditional pro video cameras, it's actually a brand new type of camera under the hood. We'll go over some of the differences and similarities between the DVX 200 and other cameras, and we'll also look at the bottom line: is it worth the money?
What makes the Panasonic DVX 200 special?
For years now we've seen a fierce competition between DSLR type cameras, with large sensors capable of capturing shallow depth of field and otherwise "cinematic" images (like better color management) on the one side, and run and gun documentary filmmakers and videographers who demand a more traditional pro video camera features like manual controls and quick setup on the other side. Examine the following still frame from a short film below: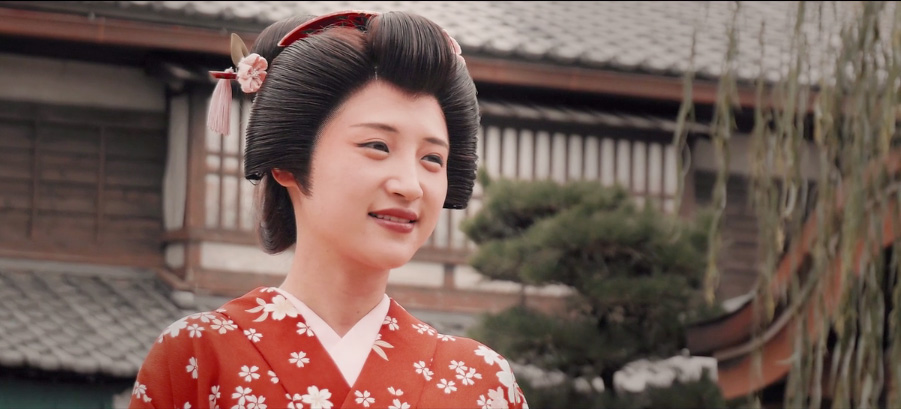 If you had to guess, you'd probably guess at first glance that it was shot on a DSLR with a large sensor and an interchangeable lens, or at the least something like a pricey Canon C300 hybrid camera and a lens worth a few grand too. But in reality, this is actually a still frame from a short film shot with a traditional body video camera: the Panasonic DVX200.
Watch the full film below, and then continue to read our analysis.
The Panasonic DVX 200 is the first camera out there to combine a long zoom lens with a large sensor format. In other words, it combines the excellent run and gun manual features that documentary filmmakers look for (so you won't be fiddling around in menu systems forever) with the cinematic image quality of a DSLR or other large sensor type camera. Although its lens is fixed (non-interchangeable, its zoom is the equivalent of 29mm to 384mm on a 35mm camera (!).
The DVX200 also has quite good low light ability including F2.8, 18db of gain and high ISO.
Of course we would be remiss if we didn't mention that due to its mixed lineage, the DVX 200 has excellent autofocus: perhaps the best autofocus of a large sensor camera priced at under $10,000 yet.
Key Panasonic DVX200 Features:
– Shoots in 4K, 1080P up to 60P for silky smooth slow motion even at high resolutions
– Frame rates up to 120FPS for impossibly slow "time just stopped" motion
– 12 stops of dynamic range (you probably noticed the short film above was shot with available light)
– V-Log for excellent color reproduction
– Dual XLR audio inputs
– HDMI and BNC video out for use with external pro video recorders at even higher quality
– Shoots on cheap SDXC memory cards
– Records in MP4 or MOV format at an extremely high bitrate of approximately 150mb/s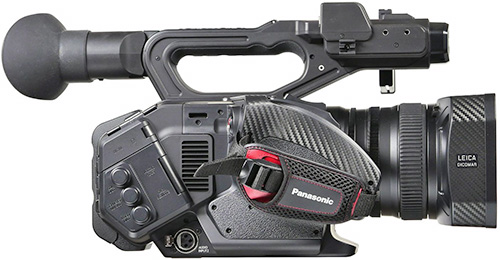 Things to note
Impressively, the camera weighs just 6 pounds. That may not sound that impressive but it begins to sound even better when you start to count up the weights of all the accessories you don't need: like a complicated DSLR stabilization rig or rails. And the Panasonic DVX 200 has built in ergonomic features as well: like a top handle with mini zoom rocker for carrying and low angle shots and a comfortable side handle grip are already built in.
What else can come from this interesting marriage of the large sensor and traditional pro video camera? Well, the Panasonic DVX200 also has incredibly good image stabilization capabilities which are much more common in traditional pro video cameras than in large sensor DSLR type cameras (image stabilization has recently been catching up on DSLRs but is still well behind that of larger traditional video cameras). And of course it also comes with a zoom rocker, for super smooth zooms at adjustable speeds (if you're used to shooting on DSLRs and trying to zoom without a focus puller accessory that probably made your mouth water a bit).
Another feature the Panasonic DVX 200 features is built in neutral density (ND) filters for bright shooting environments or shooting wide open to get shallow depth of field even on bright days. (ND filters are of course another feature missing on DSLR cameras that require screw on filters which take up much more time to set up and dismantle, whereas when they're built into a camera like the DVX200 you can manually flip them on and off at the flip of a conveniently placed lever on the side of the camera body). This camera also has a special macro close up mode for getting detailed insert shots or extreme close ups.
Of course we'd always recommend buying multiple extra batteries for any camera you use (get them for the DVX 200 here), but we've been impressed by how long the included battery lasts: up to three hours on a single charge (try getting that on a DSLR battery).
The bottom line on the Panasonic DVX200
We're quite impressed with both the footage quality and unique hybrid features of the Panasonic DVX200. Like the Panasonic HVX 200 that proceeded it years ago and was the first HD camera popular with indie filmmakers, we wouldn't be surprised if the DVX 200 turns out to be the first truly popular 4K video camera for indie filmmakers and documentary filmmakers.
The high bitrate HD and 4K footage quality coming out of this camera and its ability to capture cinematic footage in a wide range of shooting conditions from run and gun to formal sit down interview setups is formidable. Is it worth it? It would be compelling even at $6,000 or more but at a price point well below that, it's hard for us to say no to the DVX200. Our bottom line on this camera is that it's extremely flexible and well suited to a wide range of shooting needs and styles for both right now and well into the future. We expect other future cameras to follow the pattern it's set.
Where to buy the Panasonic DVX 200?
We've scouted all the usual camera sites and it looks like the best price can be found on Amazon, about $500 below list price as of the time of this writing. (And of course Amazon also has the most buyer-friendly return policy on the net in case you decide the Panasonic DVX200 isn't what you want.)
Related:
Best Documentary Filmmaking Cameras in 2019