Portable digital audio recorders like the Zoom (and others) are a popular way to capture high quality audio these days. But in many types of environments and for many use cases, you might want to connect a lavalier microphone (or two) to your recorder. Using a lapel mic that is clipped directly to a person's shirt can provide higher quality audio than the on-board microphone can, especially in noisy environments.
Here's the catch: depending on what model of Zoom (or other brand of digital recorder) you have, you're going to have different audio input jacks. So in this article we're going to provide you with great lavalier microphones for Zoom recorders by model type. Let's get started.
Lavalier microphones for the Zoom H4, H5 or H6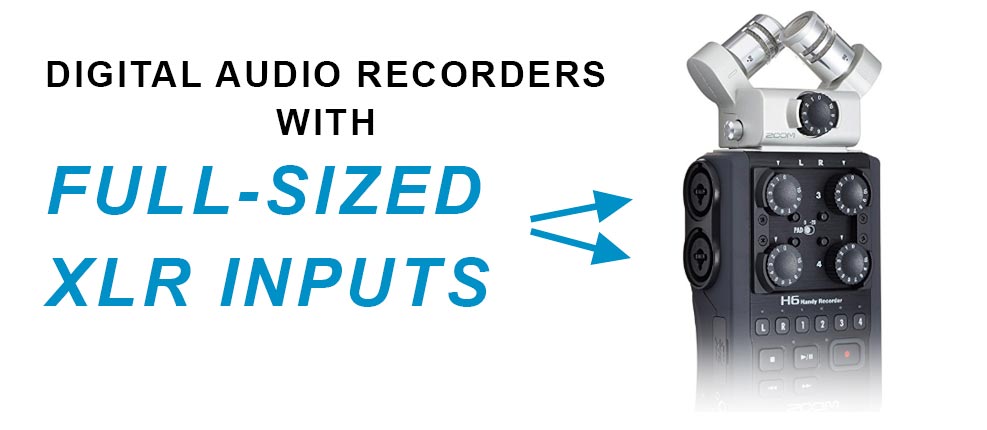 The Zoom H4, Zoom H5, Zoom H6, and many other digital audio recorders have full-sized professional XLR audio inputs. These recorders can use both wired and wireless lavalier microphones that provide you with an XLR output. If your Zoom digital audio recorder (or other brand recorder) has full sized XLR inputs like these Zoom models, here are some options for some of the best lavalier microphones you can choose to use:
Sennheiser EW 112P G3-A omni-directional wireless lavalier microphone system
The Sennheiser G3 is known as a workhorse in the documentary filmmaking community. It provides clear, professional quality audio when it's hooked up to either video cameras or portable audio recorders like the Zoom H5, Zoom H6 or similar recorders with full sized XLR inputs. The G3 is rugged, easy to use and can be operated at a wide variety of radio frequencies to avoid nearby interference. This wireless lavalier microphone's range is up to a couple hundred feed and it runs on AA batteries (two in the transmitter, two in the receiver unit which is hooked up to your camera or audio recorder like a Zoom).
Movo WMIC70 Wireless 48-Channel UHF Lavalier Microphone System
If you're looking for more of a budget conscious lav microphone for use with your Zoom audio recorder or other digital audio recorder with full sized XLR inputs, the Movo 70 Wireless Lav is worth considering. It's definitely cheaper but can also provide decent quality sound within a 328 foot wireless range. Like the Sennheiser units listed above, this lav mic comes with both XLR and 3.5mm audio outputs so you can plug it into either a pro level video camera with 3-pin XLR inputs as well as DSLRs and camcorders with 1/8th inch audio minijack inputs. If you're interested in getting a Movo, also be sure to check out the other kits and configurations available such as a dual wireless lav setup or kits with reporter style microphones.
Two-pack of wired lavalier clip-on microphones
If you're using your Zoom recorder for a podcast or interview format audio recording, you'll probably want to consider something like this set of two wired lavalier microphones from Movo. It consists of two lavalier microphones with foam windscreens and mounting clips that you can plug into the dual XLR inputs on your Zoom H4, H5 or H6 audio recorder. The mic cables are 6 feet in length, easily long enough to set the recorder on a table in between two people sitting in chairs on either side with plenty of extra slack for comfort.
Related: The Complete Microphone & Audio For Film/Video Guide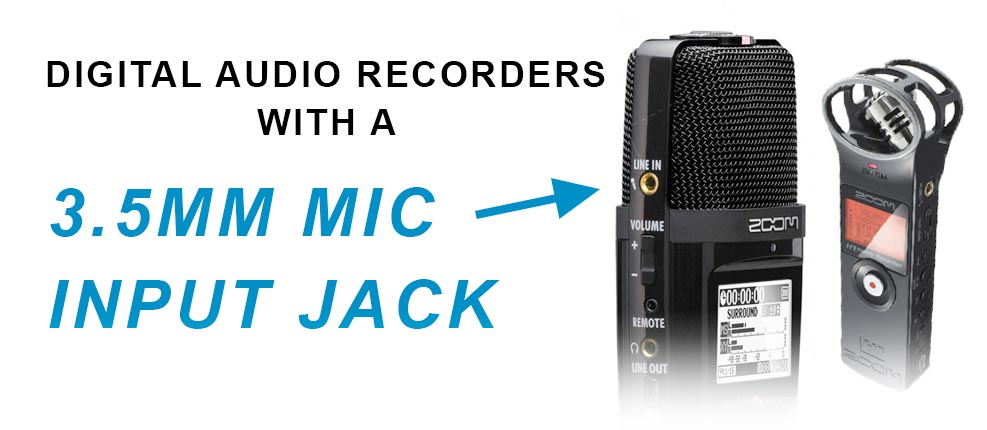 Saramonic UWMIC9 96-Channel Digital UHF Wireless Lavalier Microphone System
The Sarmonic wireless lavalier microphone system is a great budget friendly choice of wireless mic for digital audio recorders. It has a wireless range of up to about 300 feet and it provides clear high quality audio. This kit includes both an XLR output cable as well as a 3.5mm minijack for your Zoom recorder or other digital audio recorder.
Stony-Edge Condenser Lavalier/Lapel Microphone for Digital Audio Recorders
This wired lavalier microphone for Zoom audio recorders with 3.5mm microphone jacks (like the Zoom ZH1 or Zoom H2n) also works with smartphones like Android or iPhones with a 3.5mm headphone jack. It includes the microphone with a 4 foot cable (1.27 meters), a foam windscreen, a reversible mounting clip, and a convenient carrying bag.
Frequently asked questions about lavalier microphones for digital audio recorders
Do these microphones require external batteries?
Generally speaking wired lavalier microphones don't require additional batteries unless otherwise labeled. Wireless microphones require additional batteries in both the transmitter and receiver packs on the other hand.
What are the pros and cons of using wired lavalier mics vs wireless lavalier microphones?
Wireless lavalier microphones or lapel mics provide freedom of movement for your interviewee and a range of typically around a hundred feet or more. On the other hand, wireless mics are also more expensive, require batteries, and can occasionally experience radio frequency interference resulting in bad audio.
Why would you want to use an external microphone with a Zoom audio recorder or similar device?
Generally speaking, the closer your microphone is to the person speaking, the better audio you'll pick up. This is true in quiet environments and it's even more true in noisy spaces. Putting a microphone a foot away from a person speaking vs three feet away can make a world of difference, which is why professionals place microphones quite close to the people speaking. Lavalier microphones or lapel mics are a common way to supplement Zoom audio recorders (or similar digital sound recorders) to get high quality audio interviews. They're also used for filmmaking to get clear audio in cases where audio and video are recorded separately and synced up with each other after recording.