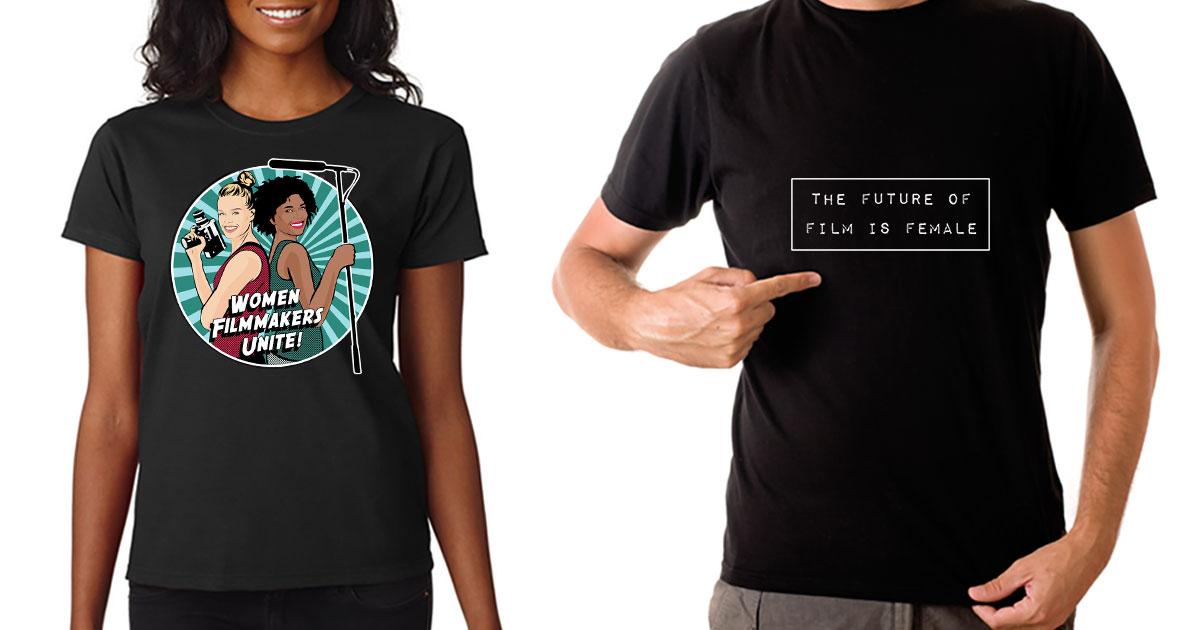 Today women make up just 11% of movie directors, 7% of cinematographers, and 14% of screenwriters. But that's changing. Every year a new generation of female filmmakers presses the record button for the first time. It's time to speak out and stand up for the future we want to see: the future of film is female! These feminist t-shirts stand up for all the under-represented women working behind the scenes in the film industry today.
Feminist Filmmaker & Women in Film T-Shirts
Female Filmmaker Friday T-Shirt: "Shoot Like A Girl"
This #FemaleFilmmakerFriday shirt features a vintage image of a female camera operator from the days of yore. It has a retro feel to it and encourages people to "shoot like a girl."
Available in black, olive green, and purple colors (sizes are available for women, men, and youth). This shirt, like all the shirts on this list, is 100% cotton and stitched in a lightweight classic fit style.
The Future of Film is Female T-Shirt
This shirt proudly forecasts the future of the filmmaking industry. It's a play on the popular slogan "the future is female" which you may have seen. The text style for this film shirt matches the same familiar type of impact labels that are sometimes used on film sets.
This feminist filmmaker T-shirt is available in both women's and men's sizes in black only.
Female Filmmaker Friday T-Shirt: "Shoot Like A Girl"
For too long, the phrase "like a girl" has been negative. But today there are more women cinematographers than ever, and they're quite talented! Support women in the camera department with this #FemaleFilmmakerFriday shirt.
Available in both men's and women's shirts in green, yellow, purple, and orange colors.
Women in Film, Unite! That's the message of this proud feminist filmmaker shirt. Women are becoming more and more represented in the film industry every year but there's still a long way to go. With every passing decade there are more and more female filmmakers working in all kinds of positions: women screenwriters, female directors, women editors, and female gaffers, and more. Whether you're a female filmmaker or not, you can help increase visibility and support women filmmakers with this shirt. Available in black, purple, and slate gray (sizes are available for women, men, and youth).
Whether you're a woman filmmaker or a male ally or a fan, encouraging women in film is a great message to promote. Perfect for women who already work professionally in the film industry, women who make documentary films, women in film school, and more. These shirts are also a great gift for aspiring young filmmakers are girls who want to work in Hollywood.