Let's say you don't want to use a DSLR shotgun microphone that sits on top of your camera but instead you want to use a boom pole and a shotgun mic mounted on top of that to capture sound much closer to your subject than an on-camera mic will allow for. It's easy to connect a pro shotgun microphone to a pro video camera, but DSLRs don't have XLR inputs. So what do you do? How do you connect a boom pole with an XLR microphone to a DSLR?
In order to connect the two, you'll need a DSLR audio adapter that converts XLR input to 3.5mm (1/8th inch) standard audio input jack that your Canon, Panasonic, Sony or Nikon DSLR accepts. In this article, we'll review two solutions to help you use boom poles and mics with your DSLR.
BeachTek DXA-CONNECT XLR Adapter/Bracket Combo for DSLR Cameras & Camcorders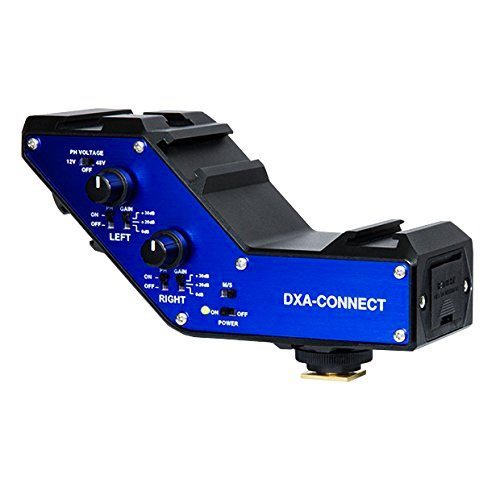 This BeachTek DSLR audio adapter sits on top of your DSLR's hotshoe bracket and accepts up to two XLR inputs and outputs a standard 3.5mm (1/8th inch) microphone cable to plug directly into your DSLR.
With this setup, you can mount a professional shotgun microphone on to your boom pole, and connect it to this BeachTek adapter box with a normal XLR audio cable. If you don't want to use an adapter in bracket format, you can also get a DSLR audio adapter that screws into the bottom plate of your DSLR like a tripod and provides you a threaded tripod mount on its bottom so you can still use a tripod. It can also provide phantom power if your shotgun microphone doesn't have a battery inside it.
Pros: Affordable DSLR XLR audio adapter
Cons: Still requires a long cable to connect your DSLR to a boom pole and microphone
See our related article: Best Shotgun Microphones and Boom Mics for Filmmakers
Sennheiser SKP 100 G3 Plug On Transmitter For Use With Evolution G3 100 Series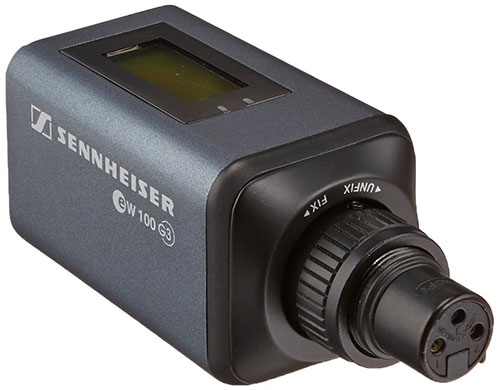 If you're in the market for a wireless boom solution to connect your DSLR to a boom pole without cables, we'd recommend using a wireless plug on XLR transmitter. The most common wireless plug on the transmitter in the indie filmmaking community is the Sennheiser SKP 100 G3 (which is also available in a kit that includes a receiver and a lav mic). How does it work? Basically, you plug your boom microphone into a cable and then plug that cable into the wireless plug on the transmitter, which can provide phantom power and then transmit to the receiver, which you can plug into your DSLR's microphone jack. If you have even more money to spend you can upgrade to a more expensive Lectrosonics model plug on XLR transmitter or the Sennheiser model which costs about three times the price of the SKP 100. (Rode also offers a similar wireless boom solution.)
Pros: Complete freedom of movement, no cables to wrangle
Cons: More expensive, subject to occasional wireless interference
A third option is to use an external audio recorder like this one with XLR inputs to record audio from your boom microphone separately and then later sync it with your DSLR's audio using software like PluralEyes. Note that this requires you to capture at least some (albeit poor) audio from your DSLR's onboard microphone to sync with. You can boost your chances that your DSLR's audio will come out in at least decent sync-able shape if you use a DSLR microphone.
Other Factors to Keep in Mind
Ultimately, the choice of how to connect a boom microphone to a DSLR camera is about flexibility. Do you want a wireless solution, which will be more flexible and maneuverable in tight situations? Or would you value a rock-solid (and less expensive) wired solution for connecting a DSLR to a boom microphone? When making the choice you will need to consider how you're going to use this setup, both now and potential future uses for this gear as well, on other projects. Having a wireless boom capability can be quite handy but it can also mean you're swapping out batteries more often than you would otherwise (and having to carry more AA batteries with you than you might otherwise). On the other hand, many people find that after they've tried wireless booming they can't go back to the wired approach because they find it too constrictive. Great films and videos have been shot both ways.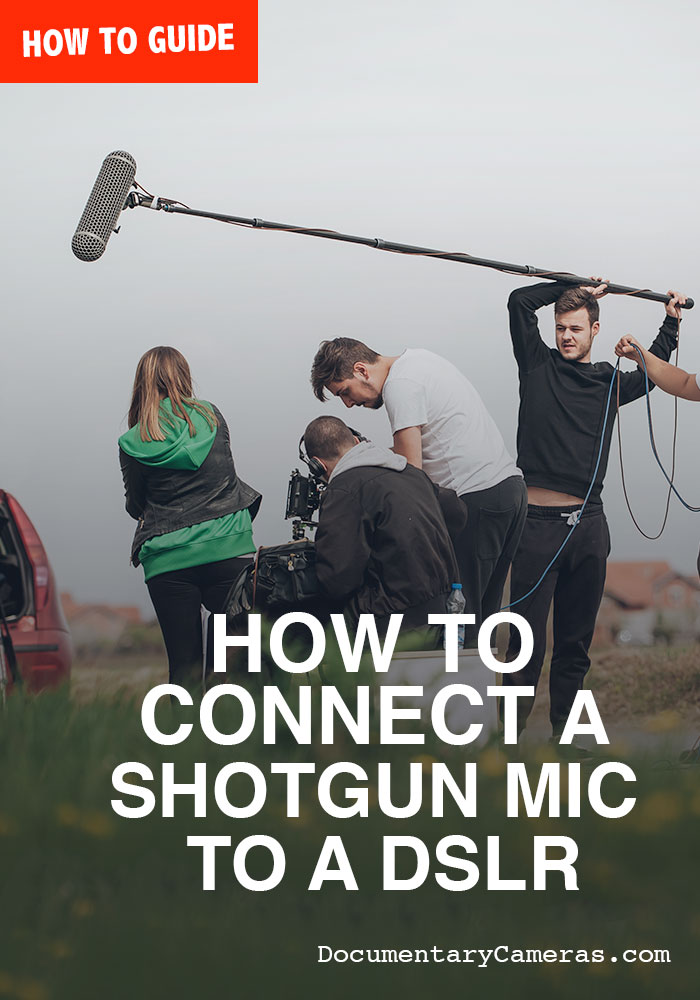 Related:
Best DSLR Microphones & Shotgun Mics for DSLRs
The Best DSLR Audio Adapters for Sound
Wireless Boom Microphone Transmitters for Filmmakers
List: Top Shotgun Microphones for Documentary Filmmaking
List: Top DSLRs for Documentary Filmmaking
10 Different Types of XLR Audio Adapter Cables
Best Headphones for Filmmakers & Editors
What are the Best Voiceover Microphones for Narration?
The best boom poles for indie filmmakers