Pictured above: a documentary film camera.
In this article we're going to break down several different types of specialty video cameras and still camera types, explaining what each one is used for.
Sports video cameras – video cameras for sports have great fast autofocus features and often the ability to shoot video at high frame rates which can feel more lifelike for fast action. High frame rates like 60 frames per second or 120fps can be slowed down during playback for smooth slow-motion effects. For more, see this related article on the best video cameras for shooting sports.
GoPros & Small Mountable Action Cameras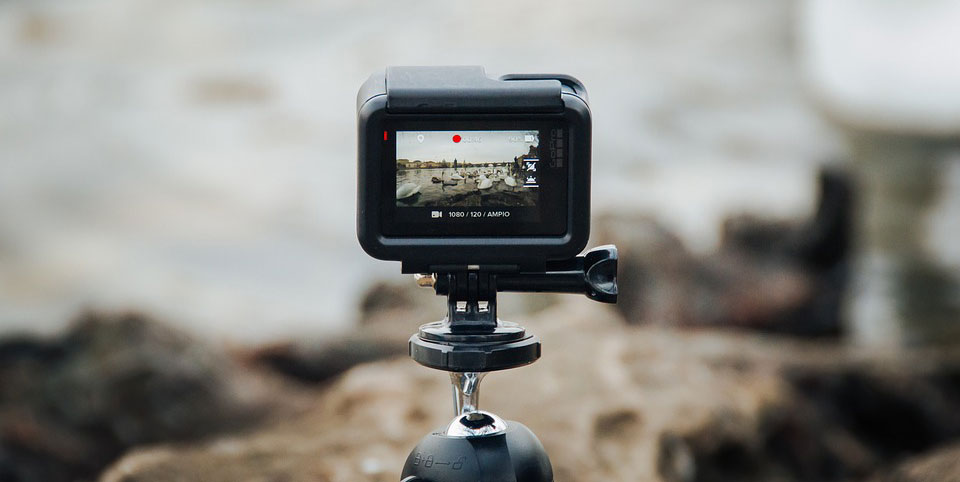 Action cameras – Action cameras like GoPros are small high quality mountable cameras that can go anywhere. For instance they might be mounted to a dirtbiking helmet or even the underside of a skateboard. For more about action cameras, check out these articles: GoPro comparison chart, Which is the Best Go Pro Camera to Get? Which GoPro Should You Get? A Buyers Guide
Mountable professional action cameras & GoPros for filmmakers – These more expensive action cameras shoot high quality video and they're used by filmmakers and TV camera operators to capture timelapses, POV shots and more. Think of them as ultra-professional GoPros.
Cheap action cameras – A variety of companies have been working to replicate high quality GoPro action cameras for a cheaper price. These cheap GoPro style cameras often shoot high quality video for a fraction of the price of their higher priced name brand competitor. See this related article What is The Best Action Camera Under $100? for more.
Action cameras for kids – Kids action cameras tend to be cheaper because, well, kids are pretty great at breaking stuff. They're also often waterproof and designed in an easy-to-use way that's simpler to operate than higher quality action cameras for adults. Check out this related article on kids action cameras for more.
Firefighter helmet cameras – Firefighters sometimes mount cameras to their helmets to capture footage of them doing search & rescue work. The specialized cameras that are used for this purpose have to withstand both heat and water as well as be quite rugged. For more, visit this article on fire helmet cameras.
Dog, Cat & Pet Collar Cameras – Pet video cameras are tiny, light and can typically be attached to a cat or dog's collar. More information: What are the best dog & cat camera collars & pet cameras? | Best GoPro Dog Mount and GoPro Pet Mounts
Motorcycle helmet camera mounts – Helmet cameras are increasingly popular both for novelty purposes and also as a motorcycle version of car dash cameras that are becoming more and more popular. See this article for additional info: The best motorcycle helmet camera & helmet mounts
Cameras for Specialized Use Cases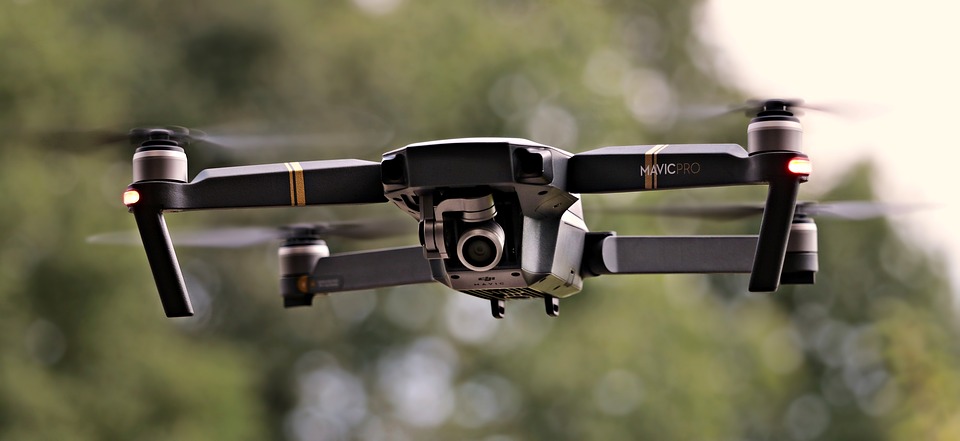 Timelapse cameras – Timelapse cameras essentially take one photograph at long intervals and stitch them together into a video, hence timelapse or "interval recording." This results in "fast motion" video. Timelapse cameras can often be configured to record at different speeds and often can be mounted on tripods.
Underwater cameras – Cameras for underwater use can often go 100 feet deep and can be used for snorkeling, scuba diving, swimming, surfing use and more. Waterproof cameras are usually not waterproof because they themselves resist water but rather because they fit into waterproof camera housings. True waterproof cameras are slowly becoming more popular though like the newest GoPro cameras. See this related article about cameras for scuba and surfing use: What is the Best GoPro Underwater Camera?
The best camera for makeup artists is often a DSLR because it's easy to operate and can provide shallow depth of field. These are useful for beauty vloggers. See this article on the best makeup camera.
360 Cameras – 360 degree cameras capture video in an especially wide field of view– 360 degrees! This is becoming increasingly popular for virtual reality or "VR" use. These cameras often work by combining two or more wide angle lenses on opposite sides of the camera body. For more on how they work, see this article: 360 Degree Videos & Photos
Drone cameras – Drones are like mini-helicopters that typically use several rotor blades that spin. They are remote controlled and often have cameras mounted on them to get "aerial" photography or video capture. Some advanced drones have cameras that simulatenously transmit video to the remote control so you can see the drone's eye view as you fly it. The Best Cheap Drones with Camera for Under $100.
Professional Video Cameras

Pro video cameras – Professional video cameras are used by filmmakers and documentarians to capture high quality images with a variety of exposure settings, manual controls and high quality audio inputs (XLR inputs). See our related article on the best documentary cameras.
Documentary film DSLRs – Some documentary filmmakers use DSLR cameras because they are cheap and can capture beautiful images with their large sensors (plus they can shoot great high resolution still photos too). For more, see this article on Best DSLRs for documentary filmmaking.
4K Video cameras – 4K video cameras capture extremely high resolution video, roughly double the size of normal 1080p high definition video. 4K video can be useful for high end video distribution in movies and television and it can also be cropped if it's being delivered in 1800p mode, allowing the editor to "zoom" in after the footage has been shot. See our related articles on the cheapest 4K video cameras and DSLRs that shoot 4K video.
Consumer Video Cameras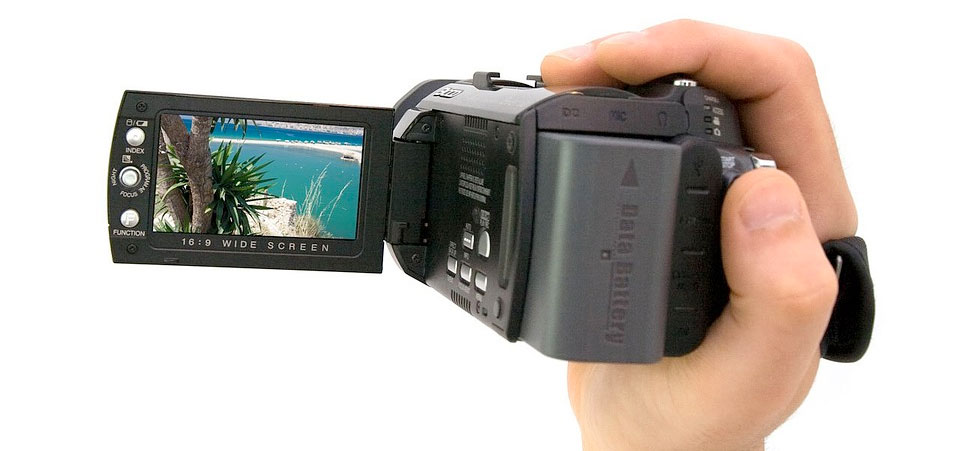 Camcorders – Camcorders are small and easy to use video cameras for personal use. People use camcorders to record kids soccer games or opening presents on Christmas morning.
Driving & Dash Cameras – Dashboard cameras are video cameras that are mounted inside your car pointing to record the driver's view as they travel. Dash cams are especially popular in Russia where car insurance works a bit differently but they're becoming increasingly popular in places like the United States as well.
Outdoor Video Cameras for Hunting
Action cameras for hunting – Hunting cameras often attach directly to rifles or bows. Some work with night vision and high speed recording modes and will come with their own mounting gear. More: What is the best action camera for hunting?
Deer cameras & trail cameras – Trail cameras typically attach to a tree and are left out in the woods for days at a time. Advanced deer cameras can be set to only record when there is motion (motion activated) and can be used to figure out where game is located for hunt planning later.
Security Cameras
Security cameras – Security cameras, some of which are wireless, others of which are IP cameras, can be set up mounted on walls and other surfaces to record whatever happens in a room or outdoors. These cameras are not typically very high quality since they have to store recordings for a long period of time but newer security cameras including security cameras for home use can record in color 1080p. Others types of security cameras might be night vision cameras.
Related:
Complete Documentary Filmmaking Equipment List
The Complete Microphone & Audio For Film/Video Guide