Clip on lavaliere microphones or lav mics can be a crucial bit of your DSLR video kit. If you're doing any interviews or documentary film work with a documentary film DSLR, having a wireless lav is essential, and if you're making narrative (fictional) work, wireless lav mics can be useful too– they just have to be hidden.
Not all wireless lavaliere microphones work with DSLRs out of the box though– some require expensive and heavy DSLR audio adapters, so you may want a lav that works with DSLR cameras to begin with.
Here are our picks for best DSLR wireless lav microphones:
Sennheiser EW 112P G3-B omni-directional EW system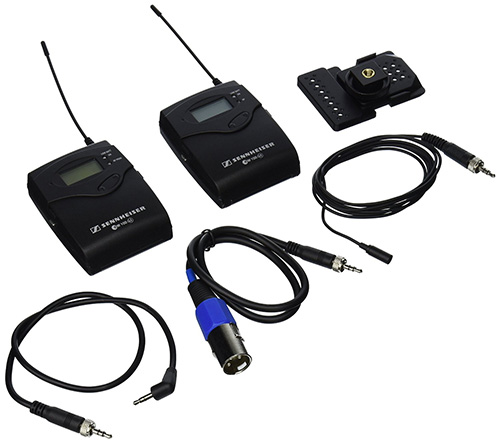 Inside the film and video community, the Sennheiser G3 has a great reputation for being an affordable workhorse. The G3 wireless lav system has been used on countless films, television broadcasts, documentary films and feature films. The G3 lav mic works with DSLR cameras quite well: the kit comes with two different camera connect options. The first one is for bigger XLR based cameras, but the second is for a standard 3.5mm (1/8th inch) DSLR audio jack. The G3 wireless lav very well with Canon DSLRs, Panasonic DSLRs, Sony DSLRs, Nikon DSLRS and others, and runs on standard AA batteries.
Article continues below
Sennheiser AVX Digital Wireless Microphone System – ME2 Lavalier Set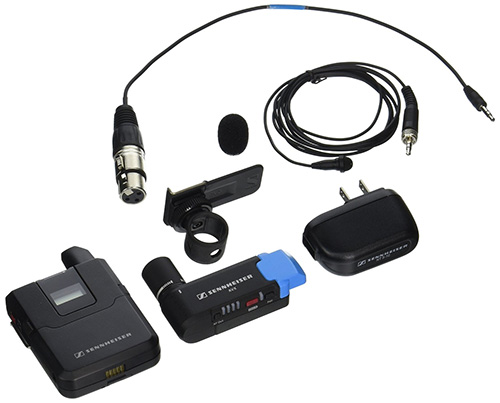 The AVX wireless lav mic from Sennheiser is the newer, bigger brother to the G3. It offers a few upgrades such as a more compact receiver unit that plugs directly into XLR inputs on full size cameras (don't worry; it also comes with an XLR to 1/8th inch adapter cable for DSLR use and a mount to attach the receiver on your DSLR camera's shoe). It also has custom rechargeable batteries which can last longer than AAs (you can also get replacement batteries for the bodypack transmitter and receiver that swap out quickly– faster than AAs do if you're in the middle of a run and gun shooting situation. You can also charge them with a USB micro charger battery pack).
Sony UWPD11/42 Lavaliere Microphone (Check reviews & prices
)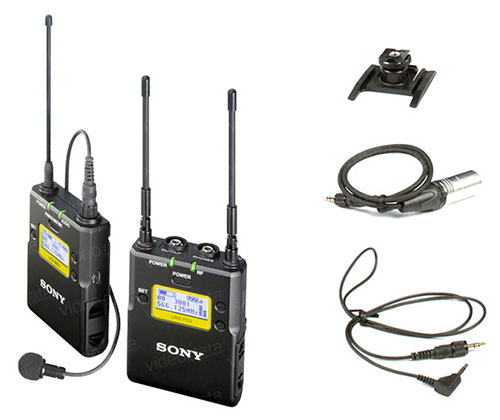 Sony's professional lav mic is the inscrutably named UWPD 11/42. It's midrange in terms of price and features an omni directional microphone, a body-pack transmitter and a receiver which plugs into either your traditional video camera or DSLR (it comes with both XLR pro audio outputs as well as a 3.5mm mic jack). This Sony lav mic also has great range, due in part to the dual antennas on the receiver, which can be positioned in different directions to pick up the mic's transmission. Like many other wireless lavalieres, the Sony UWPD11/42 allows you to select a custom frequency in case there is wireless signal interference in the area you are filming in. It also features a rather unique and convenient free-channel scanning feature which automatically selects a frequency range that is quiet.
Movo WMIC70 Wireless 48-Channel UHF Lavalier Microphone System with Omni-Lav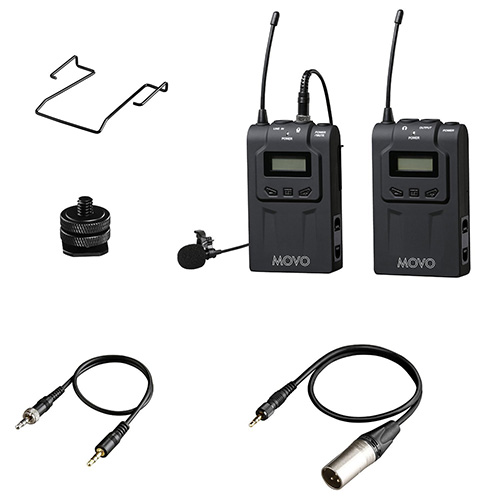 Movo makes budget-friendly wireless lavs like the WMIC70, which works well with DSLR cameras like the Canon 5D, 7D Sony A7, Panasonic GH3 & GH4 and many others.
The Movo WMIC70 offers a wireless range of up to 328 feet and offers an XLR to camera cable as well as a 1/8th inch (3.5mm) to camera cable for using this lavaliere microphone with DSLR cameras. It also comes with mounting gear needed to mount the receiver unit on top of your DSLR camera. Runs off of standard AA batteries.
Movo WMIC70 Wireless 48-Channel UHF Lavalier Microphone System with Omni-Lav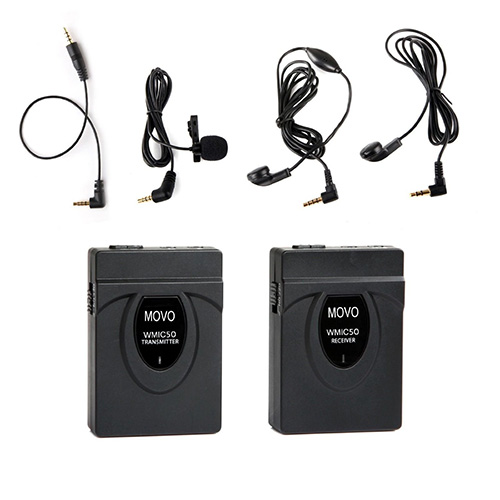 The Movo WMIC70 also has a cheaper younger brother model, the WMIC50 wireless lav which is about half the price and half the wireless range. Unlike the more expensive '70 model though, it lacks the ability to switch RF channels though so if you run into wireless interference, you'll be out of luck unless you leave the area.
It also doesn't have an XLR out adapter so if you want to use it with a traditional pro video camera, you'll be out of luck– it only works with DSLRs.
Omni-directional Lavalier Microphones vs Directional Lavalier Microphones
Generally speaking omni directional lav mics are more forgiving than directional ones, when it comes to how you mount them on your subject. Another advantage to omni directional lavs, which pick up sound from every direction instead of just "up" is that in some situations you will want to capture sound beyond just what the person who is mic'd up says. For instance, let's say you put a wireless lavalier on your subject and follow them around as they give you a tour of the office they work at. With an omni directional lav you'll also be able to pick up the sound of their coworker asking them a question for instance, if they're close together. Directional lavs are more often used in studio environments where everything is controlled (imagine the lavs that news anchors wear on the evening news for instance). Every lav mic for DSLR listed on this page are omni directional lavaliere microphones.
Wireless vs Wired Lav Mics
In the 1990s and early 2000s there was a significant size and price difference between wireless lav microphones and their wired cousins. The reliability of wireless microphone transmitters was also quite lower back then, as well as the battery life that they afforded. Today with the price of good quality lavs like the Sennheiser G3 down and the range and abilities of wireless transmitters up, we have no hesitation recommending wireless lavs for DSLR shooting. There may still be some locations where wireless transmitting equipment is still discouraged however, like certain restricted areas in hospitals however. With lower price, convenience, and reliability of modern wireless lavs today however, we don't have any qualms suggesting them over wired lavs.
Using Lavalier Microphones for Interviews
Generally speaking lavaliers are great microphones to use in interviews. There are a couple of reasons why you might consider a shotgun microphone mounted on a suspended boom pole however to capture interview sound. For instance, if your interview subject speaks with their hands a lot, you might prefer a shotgun mic suspended above them so that they don't accidentally hit the microphone. Or maybe you have one interview setup and you'll be doing short rapidfire interviews with ten people in a single hour. The time saved by not rigging each person up with a lav mic and simply having them each take a turn in the hot seat with the shotgun mic above them can be valuable. Finally, if you're picky about hiding a lavalier microphone so it doesn't appear on camera, you may want to use a shotgun microphone instead. See our related article how to connect a boom microphone to a DSLR camera for more information on that.
Related:
Best DSLR Microphones & Shotgun Mics for DSLRs
The Best DSLR Audio Adapters for Sound
List: Top Shotgun Microphones for Documentary Filmmaking
List: Best DSLRs for Documentary Filmmaking
10 Different Types of XLR Audio Adapter Cables
Best Headphones for Filmmakers & Editors
How to connect a boom microphone to a DSLR
Wireless Boom Microphone Transmitters for Filmmakers
What are the Best Voiceover Microphones for Narration?